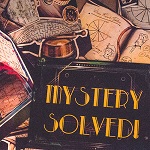 This post details a gorgeous top-rated 1920s themed escape room game, Envy! A printable murder mystery escape kit to download, print and play at home. From Lock Paper Scissors.
All the work's been done for you, everything you need to play this escape game is included, just print out, follow the instructions to set it up and you can be ready to play in just 20 minutes!
For top free full escape games to play on computer, online or on mobile, see my posts listed below.
Read More »

Envy! 1920s Murder Mystery Escape Room Game