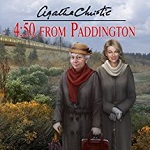 Review of Agatha Christie 4.50 from Paddington PC game.
The fourth hidden object game based on a Christie story.
This one featuring Miss Marple.
There are 4 hidden object games. Inspired by Agatha Christie's classic detective stories.
For reviews of the other HO games.
And also point-and-click adventure games based on her books.
See my posts included below.

From: Floodlight Games/iPlay/Chorion | PC release: July 2010 | Genres: Detective, Mystery, Hidden Object, Puzzle.
4.50 from Paddington PC Game
Plot: Pack your bags… for murder… While traveling through the English countryside, Elspeth McGillicuddy witnesses a frightful event through the window of a passing train: murder! With little evidence, no one will believe her. No one, that is, except her good friend, and amateur detective, Miss Jane Marple. [Source: Amazon]
Game Features
Search stunning locations from Agatha Christie's classic Miss Marple adventure.
Analyze conversations for clever clues . . . and hidden meaning.
Guess the identity of the murderer at key points in a stirring storyline.
Main game or Story Mode, play either at a Carefree or Timed pace!
Complete the main game to unlock "Find All" mode. Challenging any sleuth to uncover every hidden object in the game.
With 12 chapters.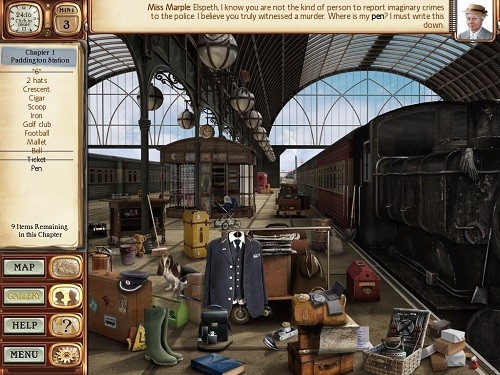 Game Play
When the police fail to believe her friend, Elspeth McGillicuddy's story of the murder she's just witnessed. It's up to Miss Marple to use her keen sleuthing skills to get to the bottom of this suspicious occurrence.
Starting from the first location, the train carriage. Follow Miss Marple as she retraces the events leading up to the murder witnessed by her friend, Elspeth. At each step, start by finding the next location on the map using the clue in the left-hand side panel. Once found, this opens up the location and shows you the areas available to search. The map shows how many items are hidden at each location and in each chapter. As well as how many are yet to be found. Enter each area (to start the timer in Timed mode) and seek-and-find the items on Miss Marple's list (shown on the left). As well as key items that are highlighted on bold in the dialog box (at the top). (See the screenshot included above for an example). In this game the HO scenes use text lists (with those in blue requiring some interaction). And also collecting multiples of the same type of item.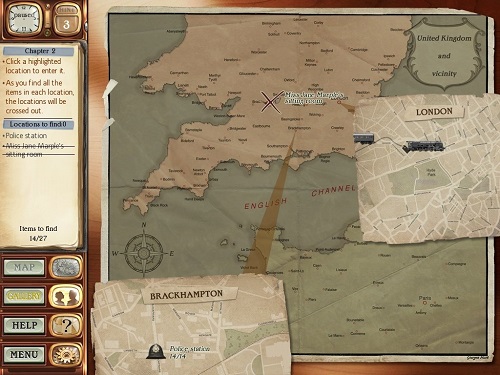 Story Mode, Game Modes and Hints
In the main game or Story Mode, you can play at your leisure in Carefree mode. Or in Timed mode, where you'll need to find ALL the items within a given time, to successfully complete the chapter. You can change the mode at any time via the Menu button.
Each chapter starts with 3 hints. Which you can use when playing the HO scenes. The hints are slowly restored throughout the chapter. And you can also earn extra hints, if you find items in quick succession.
Puzzles
At the end of each chapter, there's a Bonus Puzzle. Which will be related to the clues you've found in that chapter. You can skip this puzzle if you wish. But solving it, will provide more info that will help in your investigation. AND will earn you an extra hint!
Mini Games
There are mini games throughout. Such as rummaging around Elspeth's handbag for her train ticket. Or in the undergrowth for clues whilst under the guise of looking for golf balls!
Gallery
To keep track of all the characters and 'interviews' you have with them. You can refer back to the Gallery section. Which auto saves all the dialog strands you have with each suspect. (See the screenshot included below for an example).
Find All Mode
Once you have completed all 12 chapters. You'll unlock a 'Find All' mode. So you can go back and replay the hidden object games.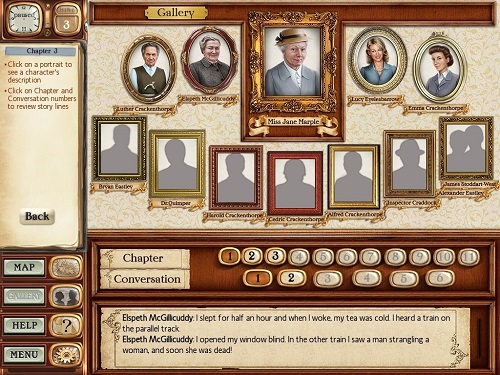 Agatha Christie 4.50 from Paddington PC Game Review
This fourth Agatha Christie hidden object game has a few improvements over the previous game. See my Dead Man's Folly PC Game Review.
Firstly, the story is better used in this game. Instead of cut-scenes to explain the story so far. The dialog box and pop-ups between each HO game do a better job of unfolding the plot. And the Gallery section stores all the conversations that you and your assistance, Lucy have with the suspects. This is useful to refer back to as you gather more clues.
Secondly, the hidden object games now have a relaxed mode, so you don't have that added pressure. Which is good as some items are so well-hidden, finding them in the timed mode maybe too difficult.
Thirdly, the Find-All mode means all the Seek-and-Find games are re-playable.
The hidden object scenes (HOS) are evocative of the period and setting. With beautifully illustrated scenes, especially in the family estate of Rutherford Hall. That are clearly scattered with items that are in keeping with the post-war era. As well as relevant to the location itself.
Puzzles and Mini Games
The puzzles are good, reasonably challenging, and of a similar type to those in the previous game. For example pairing up pieces of information to an item or suspect. In order to make sense of the evidence you have collected so far. And the mini games are good at getting you more involved into the story.
Lastly, a few more points of note. The first couple of chapters seem very short. But once you get the investigation going, there's more to do, as you move to locations of interest. As well as meeting key characters in this murder mystery. The music is subtle and atmospheric. And there are no voice-overs, so you have to read the dialog.
Overall, the story, atmosphere, HOS, puzzles and mini games are fun and well done. In-keeping with the original story. And a satisfying adaptation of the classic Miss Marple mystery story into a PC game. Which is great for both puzzle-solving AND Christie fans!
4.50 from Paddington Game on Amazon
*US Amazon for PC Download. Also in 4 Agatha Christie HO Games PC Bundle.
*UK Amazon 4 Agatha Christie HO Games PC Bundle.
This is the fourth Agatha Christie HO game. See also my post: Agatha Christie Hidden Object Games Reviews. For details of the other games.
More Agatha Christie Games Lists and Reviews
For more Agatha Christie games:
Agatha Christie Point-and-Click Adventure Games for PC.
Hercule Poirot: Death on the Nile HO PC Game Review.
Hercule Poirot: Peril at End House HO PC Game Review.
Miss Marple: 4.50 from Paddington HO PC Game Review.
Agatha Christie's ABC Murders Adventure Game Review. For iPad, iPhone, Mac, PC, Xbox One and PS4.
You might also like: Adventures of Sherlock Holmes Series Games List.
See also my New Detective Games Reviews. For PC, Mac, iPad and iPhone.
Don't forget, you can Subscribe or Follow and get updates of my latest posts.
*The above article may contain affiliate links.