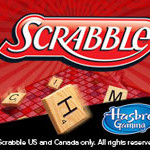 This version of the classic Scrabble game for PC and Mac.
Allows you to play against computer opponents. Or play in multi-player mode, and play Scrabble with friends.
This computer version of Hasbro's Scrabble. Uses the classic word board game rules and play.
For more digital adaptations of classic board games. For computer and mobile. See my posts, listed below.
Classic Scrabble Computer Game
With this version of the popular crossword game. You can play Scrabble on your PC or Mac. The game controls are easy-to-learn and game play familiar. Plus there are some cool extras in this version, compared to the table-top game.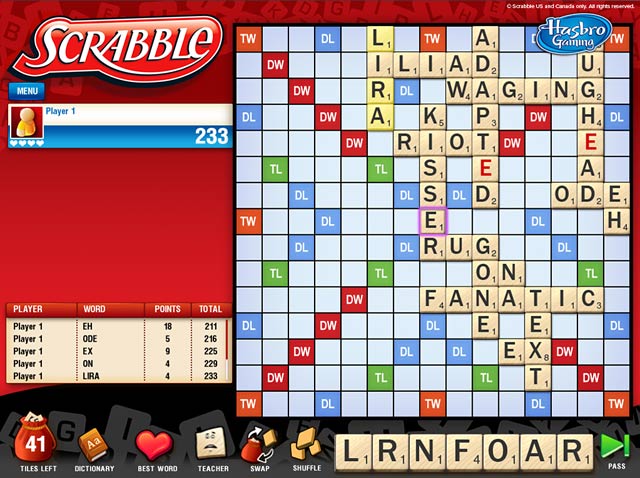 Play Scrabble Against the Computer or Multi-Player Mode
There are multiple game modes including solo play, competing against the computer.
Or you can challenge up to 3 friends in a HotSeat online mode.
Plus you get to choose from a variety of styles.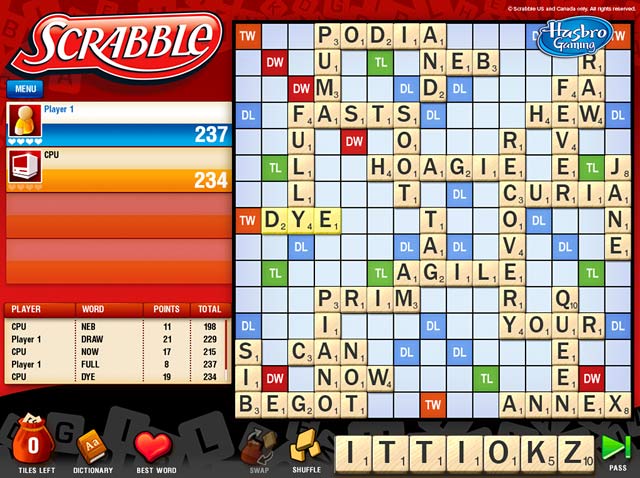 Improve your Scrabble skills by varying the difficulty level when you playing against the computer.
And by using the in-game helpful tips.
This game keeps track of your top scores so you can see your progress.
Play Scrabble against Computer for PC or Mac
You might also like: Play Hasbro Board Games on PS4 and Xbox One.
More Board Games for Computer
For more board games to play against the computer. You might also like:
Best Scrabble Games for PC & Mobile.
Classic Monopoly for Mac and PC.
Monopoly Here and Now for iPad, iPhone, PC and Mac.
Play Risk Online for Mac and PC.
Hasbros Risk II – Game Review for PC and Mac.
New Board Games for Mobile
Bohnanza: The Duel Card Game for iOS.
Through the Ages Board Game for iOS.
7 Wonders Card Game for iPad.
Cottage Garden Board Game iOS.
Mysterium: A Psychic Clue Game.
And also checkout my latest Board Game News and Reviews posts.
Don't forget, you can Subscribe or Follow and get updates of my latest posts.