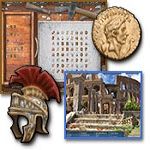 Big City Adventure 13.
New out, at last!
For PC on Big Fish Games.
Rome, is the latest installment.
In the popular globe-trotting series!
With hidden object and puzzle game play.
For the full Big City Adventure list. See my previous post, link included below.

New Big City Adventure Game
From: Jolly Bear Games.
Genres: Adventure, Hidden Object, Puzzle.
Released: February 2017/BigFish release: April 2017.
Big City Adventure 13: Rome
Description: The latest chapter in the hit hidden object series is finally here, and all roads lead to Rome! With thousands of years of art, history, and culture to experience, Rome is the perfect place to explore. Take in its many ancient wonders and marvel at a myriad of priceless artifacts. Rome is sure to satisfy even the most seasoned travelers. Search for thousands of cleverly hidden items around historic sites, plus play a bunch of fun mini-games along the way.
Game Play Overview
Join the Big City Adventure family on their next city tour. This time they're visiting the beautiful city of Rome. With 60 famous landmarks to explore across this historical city.
After completing a hidden object scene at each location, collect a memento of your visit. Then play mini-games to progress to the next location.
Learn about Rome, by collecting postcards, with interesting facts about your next location. And watch as you move across the map, from one famous landmark to the next!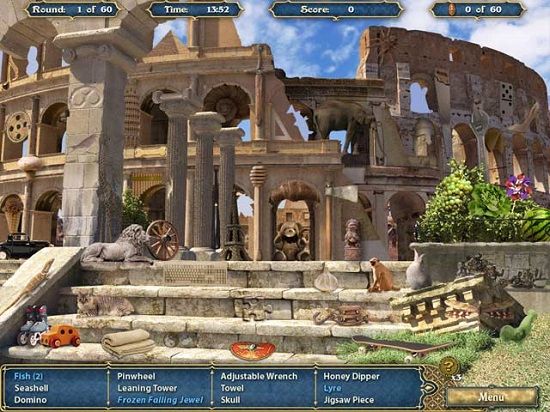 Seek and Find Games
Find and click the items/clues listed at the bottom of the screen in each location. There's a whole range of items to find, some in-keeping with the location. Others are just random objects. Some are well-hidden and quite tricky to find.
Any clues in blue indicate that they'll be found in a hidden location. Which you'll need to zoom-in to find. Any items in italics implies that you'll need to solve a riddle to find it.
There are also other items to collect in each scene. Including bonus coins, see below for details. And 1 collectible item in each scene. In this Rome chapter, these are shields.
You can choose to play the HOGs in timed or untimed/relaxed mode. And your goal is to find all the objects in the list to earn points. There are a number of ways to maximise your score. For example, by not using hints or avoiding mis-clicks.
Puzzles and Mini-Games
After completing a hidden object scene. You'll get a mini-game or puzzle to solve, before you can progress to your next stop. There are 10 unique types of mini-game. Such as matching games, logic and other puzzles. And, if you wish you can use a Skip coin, to by-pass the mini-game. And move straight onto the next HO scene.
Features
A beautifully detailed tourist's map of Rome.
Play in one of 2 modes: Timed or Relaxed.
12 Achievements (5 of which are specific to the Timed Mode). For example completing rounds in the best time. Or finishing a HO scene without hints. These will earn you more points.
Each hidden object scene depicts a real-world Roman destination.
Collect bonus coins in each scene. Including coins for free hints, added time, fast forward, extra points.
Earn more skip coins, as you play through. Use these to skip the mini-games.
One collectible in each scene.
Variety of mini-games.
This is an adventure all about Rome. Learn interesting facts, collect mementos and discover its famous locations.
You can choose to exclude the riddle items. And instead, play straight-forward HO items only.
The HO lists change each time, and so are re-playable.
Ambient sound effects and 'Italian' themed background music included.
Full details of 'How to Play' are also included. Access the instructions via the menu button.
Review
Big City Adventure: Rome follows the same well-loved formula, that makes this series so popular. As always, there's plenty of game play, interesting stuff to learn and fun to be had. Plus you get to explore the famous sights of Rome!
Whether you want to be challenged, getting all the achievements. And hitting the timed targets. Or if you just want a leisurely straight-forward HO game, with no timers, riddles or mini-games. It's up to you!
This is a no-nonsense, fun HO adventure. With enough to challenge you, when you want it. As well as a relaxing game, when you want something to fill some spare time. And with its colorful and simple design, it's also a perfect hidden object game for kids too.
Download Big City Adventure 13: Rome for PC from US Amazon.
This is the 13th installment in the series. See my post: Big City Adventure Games in Order. For all of the game titles in the series so far.
This is one of my 10 Best Hidden Object Games 2017 for Mac and PC (Part 2).
More HO Games like Big City Adventure!
For more addictive games like Big City Adventure:
Clutter HO Games.
Mortimer Beckett Games List.
Mystery PI Games by PopCap.
And you might also like:
Rooms 2: The Unsolvable Puzzle.
Big Fish's Rooms of Memory – Review.