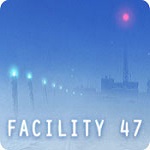 The popular point-and-click adventure puzzle game, Facility 47. New out for PC download.
This Antarctic-based escape puzzle game. Previously released on mobiles at the end of last year. For iPad, iPhone, Fire and Android.
Is now out for PC. With free demo and an unlimited in-built hints system.
For more top mystery adventure games by Inertia, see my posts below.
Top New Escape Game for PC
From: Inertia Game Studios. (See also their: Margrave Game Series List in Order.)
Genres: Adventure, Escape Game, Point & Click, Puzzle.
Facility 47 Game
PC release: May 2016.
Mobile release: November 2015.
Plot: After waking up alone in an icy cell, you find that you've been left with only a letter and a bottle of pills. To find out how you got here, you'll have to escape and begin a journey through an isolated research facility in the freezing depths of the Antarctic. Solve puzzles as you go and unlock new locations around the Facility. As you explore, you can search for clues that will help you piece together the mysterious history of Facility 47 and how exactly you came to be there!
Facility 47 Game Play & Features
Unravel the curious story of Facility 47.
Explore the eerie abandoned Arctus Antarctic research facility. And its hostile surroundings.
Uncover what led to your being locked in an icy cell!
Find out what's happened to the rest of your team.
By solving a variety of tricky puzzles.
And working out codes, passwords, riddles and cryptic messages. By finding clues spread about the facility.
Play mini-games to collect useful items or unlock new areas.
Explore the maze of interconnected rooms. All so dirty and unorganized, as if this station has been abandoned in a hurry!
Pay attention to everything. Check over every area carefully for useful items. Either to use in unlocking rooms and other locations. Or to use to complete a puzzle or mini-game.
And look out for clues everywhere – in the notes, signs on the walls and other paperwork.
The ambient soundtrack and sound effects both add to the desolate feeling of the place. Especially the howling winds outside and echoing noises inside!
And the hand-drawn artwork is detailed and beautiful.
The hints system – accessed by clicking the question mark in the left-hand corner is very handy. Use it to get a solution to a puzzle or mini-game. (See the image below for an example). Or for helpful tips, as a guide for what to do next. The hints are unlimited in the PC version. And limited in the mobile version. If you need extra hints, you can get them with in-app purchases.
The game automatically saves your progress.
And you can start over again. By selecting 'Reset' from the options menu on the home page.
Facility 47 Game Review
This is definitely a game worth playing, if you are looking for a new point-and-click adventure escape game. The atmospherics are spot-on, from the visuals to the sounds. The puzzles and mini-games are varied and tricky enough to get you really thinking. Without being unsolvable! And if you do get stuck, the hints system is very useful. In giving you solutions or to guide you to the next action required.
An all-in-all, Facility 47 is an excellent 'cool' escape game for computer or mobile players!
Play the Facility 47 Game
Available on Amazon for: Fire Tablet (US) or Fire Tablet (UK).
More Escape Games for Computer and Mobile
For more escape the room games for PC, Mac, tablet and phone. You might like:
Darkmoor Manor by Inertia Game Studios for: Fire Tablet (US) or Fire Tablet (UK).
Rusty Lake Games in Play Order for iOS.
FireProof's The Room Series for Mobile.
Haiku's Adventure Escape Games List for Mobile.
Rooms: The Unsolvable Puzzle for PC – Review.
Private Academy – Play Free Escape Game Online.
See also my Top Puzzle-Solving Games. News and Reviews for PC, Mac, Android, Amazon Fire, iPad and iPhone.
Don't forget, you can Subscribe or Follow and get updates of my latest posts.