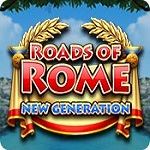 Roads of Rome 4 is the latest PC installment.
In Realore's Roman Empire time management game series.
Roads of Rome: New Generation is available on PC.
With free demo and full version download online.
Details of how to play this top management game is included below.
As well as a link to the full series so far. Which includes all the RoR games available for computer and mobile.

Top Time Management Game for PC
From: Realore.
PC release: November 2015.
Genres: Time Management, Strategy, Building.
Roads of Rome 4: New Generation Review
Plot: The Roman Empire was wealthy and powerful. It seemed nothing could threaten its peace and prosperity. Until, one day, a sudden misfortune came upon the land, and the Romans had to face earthquakes of unseen power with drastic consequences. Young Marcus Victorious now must save its citizens and bring back life to its previous glory. Build new settlements, new roads and a new future for the people. Help Marcus prove himself to his epic Father, gain respects of the citizens and maybe even win the love of a gorgeous girl!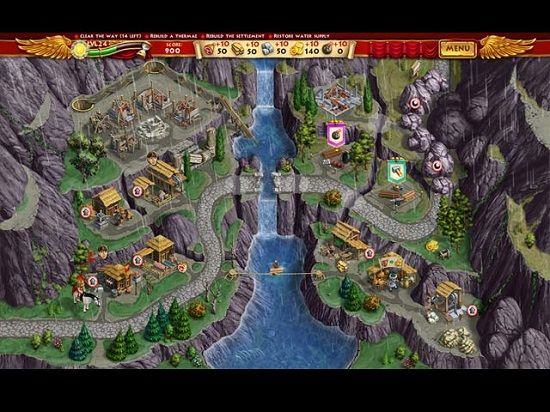 How to Play Roads of Rome 4: New Generation
Roads of Rome 4 – Story
In this 4th Roads of Rome story, you must help the Roman Empire reconnect the surrounding settlements. Rebuilding and repairing them after a devastating earthquake. It's Marcus' chance to prove his leadership skills to his father. As well as win over Caesar's approval. By successfully aiding the affected citizens. And reconnecting the roads back to Rome!
Roads of Rome 4 – Levels and Game Modes
Split over 4 episodes, each with 10 levels. Plus a bonus level. You'll have to cope with a wide range of extreme climates, bad weather conditions and hostile environments. From the water-logged lowlands in episode 1. And the arid African desert in episode 2. To the icy mountainous regions of episode 3. And the volcanic landscape of episode 4!
Play in 4 game modes: Untimed in Relaxed mode, and Timed in Easy, Normal or Hard Modes. Even in Normal mode this game is fast and frenetic!
Roads of Rome 4 – Game Play
With the usual game play that fans of the Roads of Rome series will recognise. Including resource management, strategy and building game play. Plus some new twists.
Explore these terrains and aim to clear the avalanches and other blockages. Each level has set number of obstacles to clear. Including clearing floods, removing boulders and mending broken bridges.
You can view the objectives completed and yet to do at the top left-hand corner. Above the timer.
Set your workers to their tasks. But as you can't stack up tasks, you'll need to make sure you keep an eye on them. And get them on to the next task as soon as they are available again. To complete your objectives as quickly as possible!
Roads of Rome 4 – Resources
As well as clearing all the roads back to Rome. You'll also need to rebuild the settlements, and make the citizens prosper and happy again. Find resources to help you rebuild each location. Resources include food to feed your workers, wood to mend bridges and for rebuilding their homes and businesses, stone to fix the roads, gold to trade with and bombs to help you blow up large boulders to clear roads.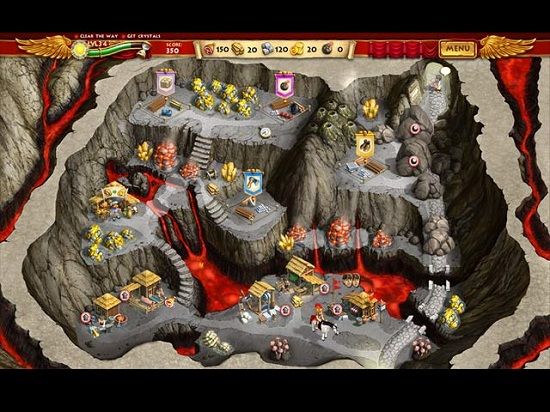 Roads of Rome 4 – Buildings
You'll also have a range of buildings to use, fix up and upgrade. To make the best use of your workers aim to upgrade buildings as soon as you can. To make them more productive. For example upgrading their camp means you can get more workers. Improve food production by building farms to feed them quicker. And help them collect more wood by building sawmills. With these upgrades you can get tasks done quicker.
And unless you are in Relaxed mode, you will need to complete all tasks as quickly as you can before the timer runs out and night falls. To succeed in completing the level.
Roads of Rome 4 – Boosts
Helpful boosts are available through the game. Including speed boots that will give your workers a short burst of speed. Or a hammer that will temporarily help the workers complete a building quicker.
As well as the building, fixing and route clearing objectives. You also have hidden treasures to find. With at least 1 secret item to find in each level location.
Roads of Rome 4 – Hidden Treasures & Expert Status
To get the best scores and achieve expert status for a level. You'll need to complete each level in Hard mode, finish all the objectives AND find all the secret items in that location before night falls.
So you'll need to optimise your strategy and management. To get the best use out of your workers and resources. And make use of boosts wherever possible!
Once you've completed all 40 levels. You'll unlock an additional bonus level!
This is the 4th installment in the series. See my post: Roads of Rome Game Series List. For all the game titles in the series so far. For computer and mobile, in order of PC release.
More Top Time Management Games
For more time management game series lists for computer and mobile. You might like:
Adelantado Trilogy Series List.
12 Labours of Hercules Games.
Monument Builders Series List for PC, Mac, iOS.
Incredible Dracula Series List for PC and Mac.
Sunken Secrets – Free Time Management Game for PC, iPad, iPhone.
See also my New Time Management Games posts. For PC, Mac, iPad and iPhone. Including series lists, new releases and reviews.
Don't forget, you can Subscribe or Follow and get updates of my latest posts.