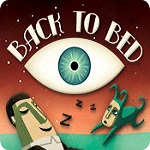 The popular surreal brain-teaser mobile game, Back to Bed.
A gorgeous and tricky puzzler.
Has just been released for PC.
Including a free demo to download and try it out!
You can also currently get this game in an iOS bundle. See below for details.
And for more top PC puzzlers and brain-teasers. See my list of other top games to check out.

Popular Puzzle Game App, Now on PC
Back to Bed
From: Bedtime Digital Games.
PC release: June 2016.
iOS release: August 2014.
Genres: Puzzle, Brain-Teaser.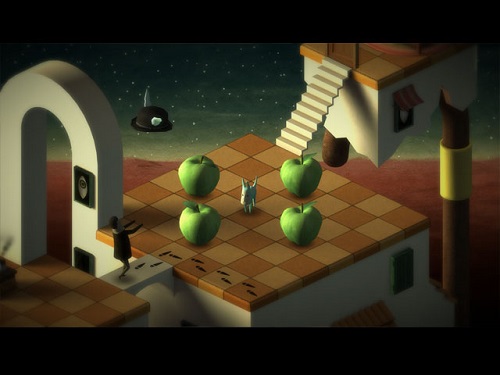 Plot: The ever vigilant Subob must guide Bob's sleepwalking self on a journey through a series of surreal painting-like cityscapes where the boundary between Bob's dreams and reality have vanished. The result is an artistic dream world that is recognizable, yet totally different from reality. Many things are not what they seem and new dangers lurk as Bob travels deeper into the dream world.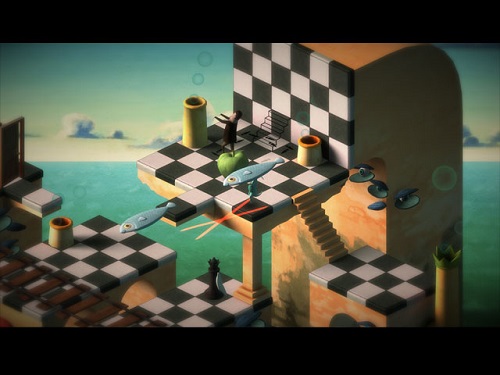 Back to Bed – Game Play
Explore a unique, surreal and Dali-esque dream universe.
Play as Bob's guardian, Subob.
Guide the narcoleptic Bob back to bed, without waking him up!
Get Subob to pick up and place apples (just like from a Magritte painting!) that are dotted about each puzzle scene. And use them to direct Bob's path, to stop him from falling off walls or rooftops! But as Bob can only turn clockwise, you'll have to think about where and when you get Subob to place these obstacles!
You can see where Bob's current route will take him by the path of footprints. Use these as a guide to think ahead and pre-empt his path taking him over the edge.
You can fast-forward Bob's action. Or pause to retry/restart the scene again.
Once you've managed to get him safely to bed, click on 'Dream On' for the next puzzle.
You'll come across optical illusions, stairs that allow Subob to walk up walls and magical portals!
There are also other things that may wake Bob up. Such as walking alarm clocks, potholes, a whale train and pipes that blow wind at him. And each have to be avoided in a specific way to prevent Bob being woken up. Otherwise you'll have to start again.
If Bob does fall off. He gets dropped in at the starting point, so you can try again.
Once you have solved a scene, you unlock the next one in the level. And you can go to the main menu to replay puzzles you have already unlocked.
Back to Bed – Features
With isometric puzzle design. And a serene musical soundtrack. Which is punctuated with Bob's snoring! As well as other quirky sound effects. When you fast-forward the action, the sound is fast-forwarded as well, which is quite funny!
There are plenty of nods to famous surrealist artwork. Such as the winged bowler hats and the melting clocks.
Each puzzle (dream selection) is a gorgeously surrealist 3D challenge to navigate.
With 2 main levels: Rooftop Trouble and Habour Hazards. Each with 15 levels. Plus unlock each main level in nightmare mode for new challenges!
Recommended to play with a game controller. Though it is possible to play with a mouse, just takes a little longer to get the hang of the controls. In the mobile version you can switch from touch controls to a virtual joystick via the pause menu.
You can zoom out/in to get the full picture. If you are using a mouse, use the wheel for this.
Back to Bed – Review
This is a very addictive puzzle game. I played it with a mouse rather than a game controller, as they'd recommended. So I had to get the hang of playing the game with the mouse first. However, once I did I found this game fun and addictive. It's beautiful and surreal world was impressive. With the puzzles getting gradually more tricky as you move through the levels. I'd recommend that you give it a try even if you don't have a controller, just take your time to get used to the controls first. Then you'll enjoy this gorgeous puzzle game for sure!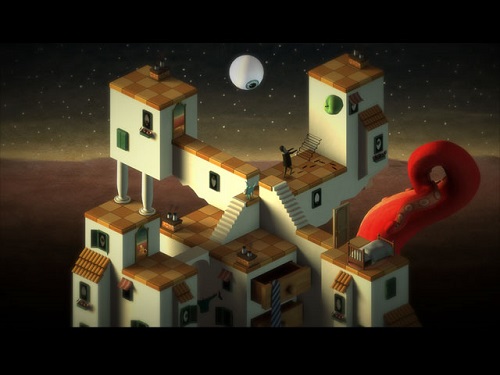 Get Back to Bed for Computer & Mobile
Available from Amazon US Appstore for: Kindle Fire and Kindle Fire UK.
More Top Point-and-Click Puzzle Games
Her Story – Detective Game App.
Tormentum – A Dark Mystery Adventure.
Botanicula Review.
80 Days by Inkle.
Hidden Folks Game.
Rooms 2: The Unsolvable Puzzle Review.
See also my latest Big Fish Games for PC, Mac, iPad and iPhone posts. Including series lists, new releases and reviews.