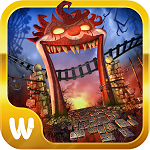 Weird Park 1: Broken Tune is the first episode.
In one of my best Alawar hidden object game series.
Available to play on computer – for PC and Mac.
You can also get this game in a Weird Park trilogy game bundle for Mac.
This is the 1st game in the Weird Park trilogy. For the full series list, see also my link included below.
Top Alawar Hidden Object Game
Title: Weird Park: Broken Tune.
From: Alawar Games & Diesel Puppet.
Genres: Mystery, Hidden Object, Puzzle.
PC release: November 2011.
Weird Park 1: Broken Tune
Plot: Explore a haunted amusement park in Weird Park: Broken Tune! Take the role of a private detective hired to investigate a rash of "accidental" deaths that befell those who worked at the park before city officials shut it down. Investigate amazing locations carefully in this incredible Hidden Object Puzzle Adventure game! Tread carefully to make it out of this Weird Park alive and discover the murderer!
Weird Park 1: Broken Tune – Game Play & Features
You're tasked with solving the mystery behind the disappearance of a local journalist. Who was last seen investigating the tragic past of the Fairy Gate amusement park.
Explore all areas of this long abandoned park. With its broken-down rides and attractions. And search for clues to solve this mystery.
There's plenty of game play. Spread across 13 chapters, in the standard version.
All illustrated with colorful and clear artwork and interesting cut-scenes.
This is a creepy theme park adventure. With subtle haunting music and visuals to match.
Though abandoned, there is a clown ghost haunting the place. And a weird little joker figure that seems to pop-up when you least expect it!
Game play includes puzzles and mini-games throughout. Which you can skip once the skip button has charged up.
And there are some hidden object games (HOGs) to play. The HOGs involve either text lists or fragmented object scenes. The HO scenes are large and clear, no junkpiles. And also include a click penalty if you mis-click 3 times.
You have a journal which stores info that you find, that will help you solve puzzles. An inventory for items you collect, to use later.
And there is also a hints system. Depicted by the monkey in the bottom right of the screen. Who winds an organ up to recharge the hint button. A red ? is visible once fully recharged.
Separate strategy guide available.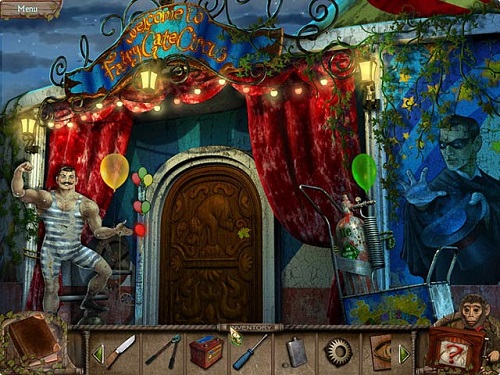 Weird Park 1: Broken Tune – Review
In Weird Park 1, the gameplay is simple, not too difficult or unique. However, the story is interesting enough to a get a spooky thrill from playing this game. Especially with the clown ghost and the weird little jester that both keep taunting you and following you through the game.
You will find that you have to replay most HO scenes at least twice to collect key items. And as there is no fast-travel map, some backtracking is required.
But on the plus side, if you like a quirky spooky atmospheric game. And you don't like fairies or fantasy HO games.
Then you should check out Alawar's Weird Park: Broken Tune. For its fun yet creepy atmosphere! With the bright visuals, twisty storyline, weird characters and sinister music. Which come together well to create a light-hearted spooky mystery-solving adventure game.
Available on US Amazon: PC Download or Trilogy for Mac Download.
And UK Amazon: PC CD or Trilogy for Mac Download.
This is the 1st installment in the series. See my post: Alawar's Weird Park Game Series List. All the game titles in the series so far. For computer and mobile, in order of PC release.
See also my New Alawar Games News and Reviews posts. For PC, Mac, tablet and phone.
And also my 10 Best Hidden Object Games Series of all Time! For computer and mobile.
Don't forget, you can Subscribe or Follow and get updates of my latest posts.