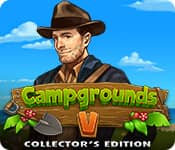 This post details the new time management game release on Big Fish, Campgrounds V.
Another top installment in the strategy game series from Jumb-O-Fun Games!
Available from Big Fish Games for PC and Mac download including free demos.
For more top Big Fish management games and the full Campgrounds game series list, see my posts listed below.
Read More »

Campgrounds V from Jumb-O-Fun Games