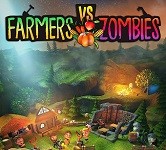 Farmers Vs Zombies by Hammer Labs, Farm for your Life in this zombie flavored farming game!
A combination of tower defense and farming sim.
New out on Amazon UK for Nintendo Switch, Play Station 4 and 5.
For more top 2021 action-adventure games releases, see my posts listed below.
Farmers Vs Zombies
From: Hammer Labs | Switch Release: June 2021 | Genres: Adventure, Strategy, Point & Click, Simulation, Tower Defense, Management, Building.
Farm for your Life!
Description: Your community was taken down by a heavy storm which caused an apocalypse and unleashed the living Dead. Together with the other survivors, it is your task to rebuild and to allow that sustainable life can still be assured. Cultivate your farm and manage your restaurant to provide food and deal with all the zombies. It's a strange time management game. The light-hearted style of a casual game collides with elements, which are usually only seen in horror genres. Discover the contrast, which takes both genres for a wild ride. [Source: Amazon]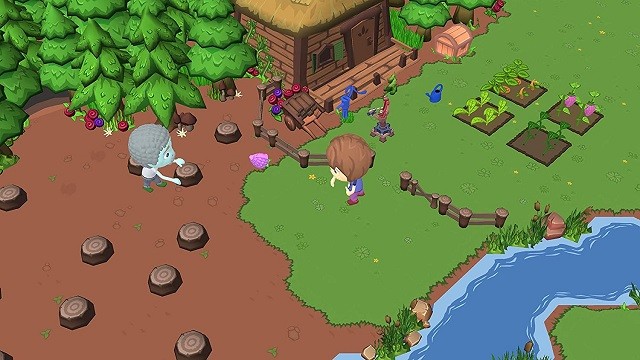 Game Play and Features
Combining elements from farming, Tower defense and time-management genres.
Set up and Cultivate your farm with a lot of different fruits, vegetables and animals.
Build, manage and upgrade your own restaurant and provide the others with a wide variety of dishes.
Protect your farm by building mazes and towers. Our zombies are vicious vegetarians!
Design your own character.
Get stuck in an unbloody, fruity survival-feeling.
Story mode provides 5-6 hours of gameplay.
*Farmers Vs Zombies available from UK Amazon for Nintendo Switch, PS4 and PS5.
More Top New Action Adventure Games 2021
Tails of Iron Top New Action RPG by Odd Bug.
New World – MMORPG from Amazon Games.
Tales Games in Order including #17 Tales of Arise Released.
All Life is Strange Games in Play Order including Life is Strange 3.
Sherlock Holmes Video Games List including 2021 Release of Chapter One.
Get Blog Post Updates by Email
Never miss a post – just enter your email address below and you'll get an email every time I publish a new post.
[jetpack_subscription_form subscribe_placeholder="Enter your email address" show_subscribers_total="false" button_on_newline="false" submit_button_text="Sign Up" custom_font_size="16px" custom_border_radius="0″ custom_border_weight="1″ custom_padding="15″ custom_spacing="10″ submit_button_classes="" email_field_classes="" show_only_email_and_button="true"]
And don't forget you can also get alerts of my latest posts by following on Twitter 🙂
*The above article may contain affiliate links.