Realore's Adelantado Trilogy series list. With all of the games in this time management series.
For computer on PC and Mac.
Also available on mobile – Android, Amazon Fire, iPad and iPhone.
Listed in order of release.
May 2017 Update: Adelantado 4 now out. See below for details.
Adelantado Games List
From: Realore Games/Qumaron.
Genres: Adventure, Building, Management, Strategy, Simulation.
Adelantado Trilogy: Book One
PC release: July 2012.
Plot: Help the brave and noble officer, Don Diego De Leon, to find and save the lost expedition. Befriend the natives who can be of valuable assistance to you. Help them as you restore buildings, harvest foods, and create a settlement. Upgrade your skills and earn fabulous trophies.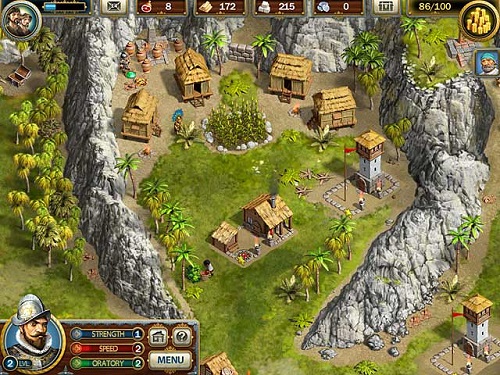 Play Adelantado Trilogy: Book One
Available from Amazon for: PC Download (US).
Book Two
PC release: March 2013.
Plot: The sequel starts where the previous part left off. Don Diego has found a new path and now he continues his mission.
There are still survivors from the previous expedition to save, glory to achieve and gold for the Spanish Crown to find.
His crew, however, is tired.
While some people start to rebel and abandon Don Diego, some stay loyal, and together they advance through wild jungles and endless swamps.
The atmosphere is moody and grim but Don Diego tries to keep everybody cheerful, though an ever-present rival, Commander Rodriguez, is more evil than ever!
Play Adelantado Trilogy: Book Two
Available from Amazon for: PC Download (US).
Book Three
PC release: March 2014.
Plot: The story of Adelantado continues in Book Three – get ready for an epic conclusion of this amazing trilogy!
Don Diego finds himself on top of the high cliff.
There he comes across a stone that tells the story of these ancient and mysterious lands and its beautiful but dangerous inhabitants.
Despite the risks that lay ahead the brave explorer has to push forward and finish his quest to find the lost expedition.
4 Aztec Skulls
PC release: May 2017.
This time management game is not strictly part of this series. But includes the Adelantado Trilogy characters and the game mechanics of the Roads of Rome series.
Description: The Queen once again calls upon Don Diego de León to fulfil an important mission.
He must organize an expedition to the New Land and appoint its leader to expand the discovered territories and replenish the treasury with gold.
Don Felipe de Silva becomes the Governor. Upon arrival, the expedition meets friendly-minded locals who tell them about their troubles.
Evil priests are trying to summon a demon to subdue all known territories. Spaniards decide to help the Indians. To do this, they need to find 4 skulls that can cast a protective spell.
Master Miguel Sanchez is chosen for this serious mission.
Play as Adelantado to help him explore new territories, collect gold, and protect the locals.
Play 4 Aztec Skulls
On Amazon for: Fire Tablet (US) or Fire Tablet (UK).
Games like Adelantado
For more top time management games like Adelantado. For computer and mobile. See also:
My Tribe Free Full Version Downloads for PC and Mac.
RTS Totem Tribe Game and Full Version PC Download.
Virtual Villagers Series.
Roads of Rome Game Series and also Roads of Rome 4: New Generation – Review.
Northern Tale Game Series.
Best Time Management Game 2019: Roman Adventures Britons Season Two.
See also my New Time Management Games posts. For PC, Mac, tablet and phone. Including series lists, new releases and reviews.
And also Best Time Management Games 2017 for PC and Mac.
Don't forget, you can Subscribe or Follow and get updates of my latest posts.