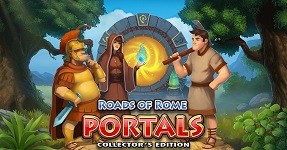 This post details Roads of Rome 7: Portals Collectors Edition by Qumaron.
The new chapter in the popular time management game series. Available for PC and Mac download including free demo online.
For more top management games to download for PC and Mac. Plus the full Roads of Rome game series, listed in order see my posts listed below.
Roads of Rome 7
From: Qumaron | Released: July 2021 | Genres: Adventure Games, Building Games, Time Management Games, Simulation, Strategy.
Portals
Story: A squad of valiant Roman soldiers and their workers were returning home from yet another military campaign. On the way back, they were overtaken by a strong storm, and their ship crashed on the rocks of a deserted island. When in the cave, the Romans discovered a mysterious ancient teleport. They were faced with a choice – to die or to take a step into the unknown. They definitely did not want to die… [Source: qumaron]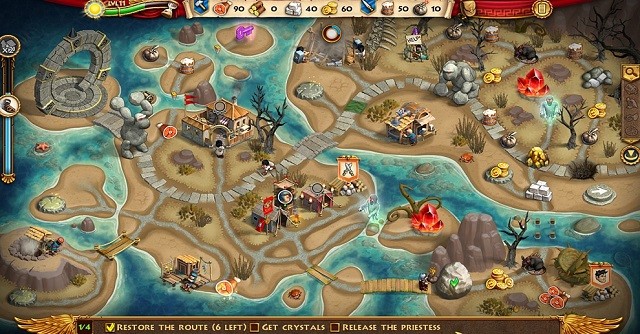 Game Play and Collectors Edition Bonuses
40 colorful levels and one bonus level.
Very familiar, but improved gameplay.
4 difficulty modes.
Multi-click mode.
2 object selection modes.
Hard-to-find caches.
Collector's Edition extras:

8 additional levels.
Desktop wallpapers.
Music track.
Cache maps for all levels.
Automatic guide for completing levels.
For all of the games in the series, check out my post: Roads of Rome Game Series.
You might like to check out Apple Music for the Roads of Rome: Portals (Original Game Soundtrack) – EP from the QUMARON Music Team.
More Top Time Management Games for PC and Mobile
Fabulous Angela Game Series Order – Top Time Management Games from GameHouse.
Monument Builders Game Series Order – Time Management Games by Anuman.
Delicious Games in Order from GameHouse.
Farm Frenzy Games from Melesta and Alawar Including Free Full Download Versions.
Realore's Adelantado Trilogy for PC, Mac and Mobile.
And check out my latest Time Management Games News and Reviews. For PC, Mac, and phone. Including series lists, new releases and reviews.
Get Blog Post Updates by Email
Never miss a post – just enter your email address below and you'll get an email every time I publish a new post.
[jetpack_subscription_form subscribe_placeholder="Enter your email address" show_subscribers_total="false" button_on_newline="false" submit_button_text="Sign Up" custom_font_size="16px" custom_border_radius="0″ custom_border_weight="1″ custom_padding="15″ custom_spacing="10″ submit_button_classes="" email_field_classes="" show_only_email_and_button="true"]
And don't forget you can also get alerts of my latest posts by following on Twitter 🙂