Check out the list of games in the 12 Labours of Hercules time management games. I am listing them all in Chronological order, so you can play them as they were released (or only focus on the latest releases).
These cute time management games are part of a long-running series and I am happy to know that most of them are available on both PC and Mac, some of them with free demos and even full versions to play online.
With these in mind, let's not waste a single second and instead let's check out the list of 12 Labors of Hercules games below!
12 Labors of Hercules Game Series
From: Jet Dogs Studios and Zoom Out Games | Genres: Adventure, Building, Time Management Games, Strategy.
Note: This article contains affiliate links.
1. 12 Labours of Hercules I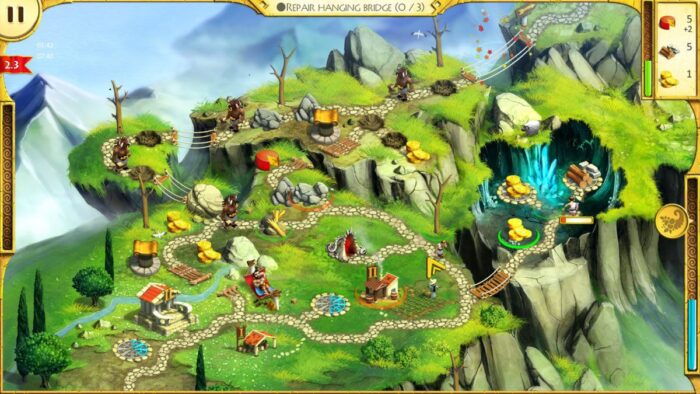 Plot: Accompany Hercules on a quest to rescue his wife, kidnapped by the evil Hades in 12 Labours of Hercules!
You'll meet heroes from Ancient Greece as you vanquish beasts, repair roads and construct wonders in this stunning Time Management game!
Available for PC download here.
2. 12 Labours of Hercules II: The Cretan Bull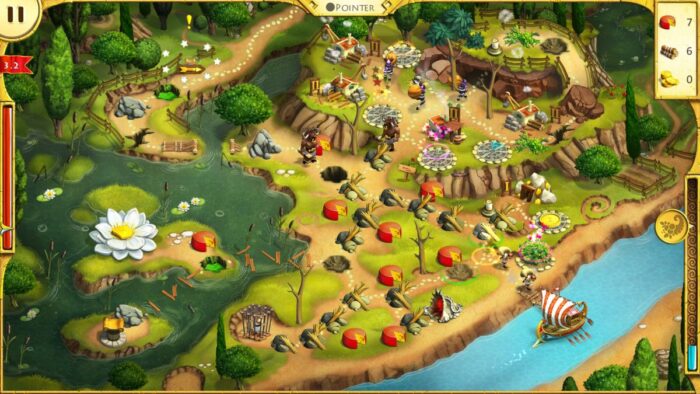 Plot: The evil goddess Hera has frightened the great Cretan bull! The bull is going wild and ruining the roads and many buildings.
Help Hercules save the day by taming the great Cretan Bull. Meet heroes, gods, fight beasts and build Wonders! Collect and solve incredible puzzles. Enjoy colorful comics and Hercules' surprising tricks.
Available for PC download here.
3. 12 Labours of Hercules III: Girl Power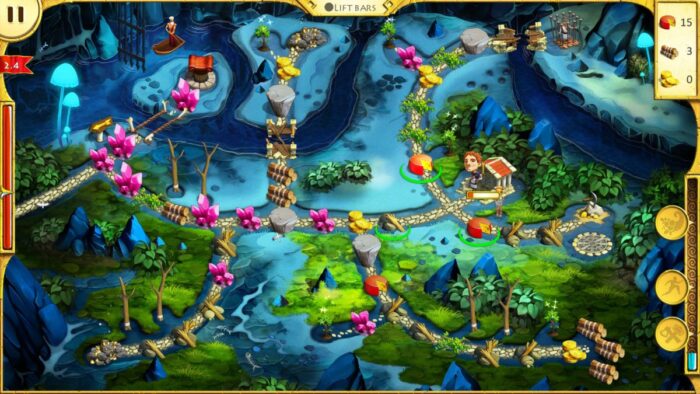 Plot: A hero from Ancient Greece, Hercules, is fighting the great beast Scylla, when lurking Charybdis captures his friend Cerberus!
Then, unseen by Hercules, takes the hero himself. The only chance for Hercules is his wife Megara.
Help Megara free the hero and then accompany him in all of his adventures, including the forest of the Amazons and Mount Olympus.
Available for PC: Download Here.
4. 12 Labors of Hercules IV: Mother Nature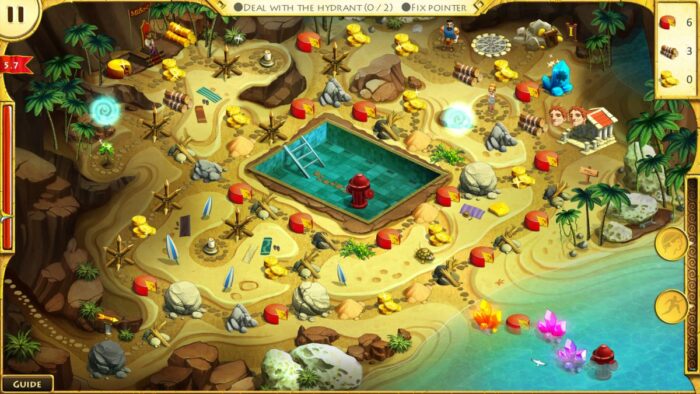 Plot: The legendary hero Hercules and his wife Megara are back, ready to embark on their next adventure!
The Gods are outraged at their defeat and have summoned a fearsome beast who can match Hercules's god-like strength. The beast has trampled the countryside, turning lush gardens into desert wastelands!
Restore the world's beauty by using everything at your disposal, from Megara's magical abilities to even a fire hydrant! Team up with friendly allies like King Midas and Epeius with his famous Trojan Horse to save Mother Nature from destruction.
Available for PC: Download Here.
5. 12 Labors of Hercules V: Kids of Hellas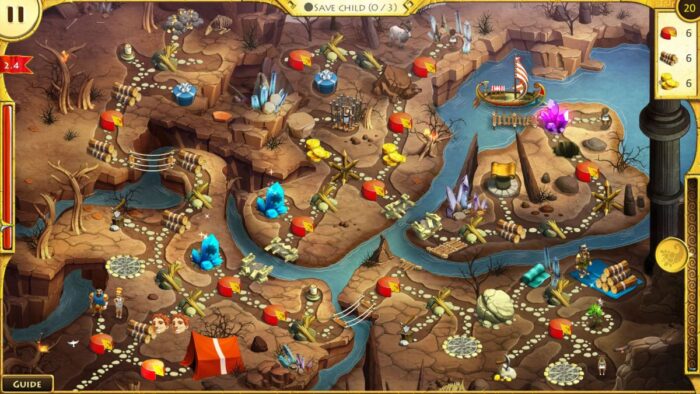 Plot: The peaceful living of Hercules and Megara is interrupted by mighty god of war, Ares. He asks Hercules to help him conquer the world by leading the great army.
As soon as Hercules declines, Ares finds a way to avenge. By using enchanted toys, he zombifies the kids of Hellas so they will follow the god's commands and become his warriors!
Available for PC: Download here.
6. 12 Labors of Hercules VI: Race for Olympus
Plot: Panic ensues throughout Olympus once news of Zeus' abduction breaks. Hercules and Megara embark on a mission to locate their missing ruler.
Join them on an adventure that spans from snowy peaks to active volcanoes. Find the villain that kidnapped Zeus and restore order to the kingdom of Olympus!
Available for PC: Download Here.
7. 12 Labors of Hercules VII: Fleecing the Fleece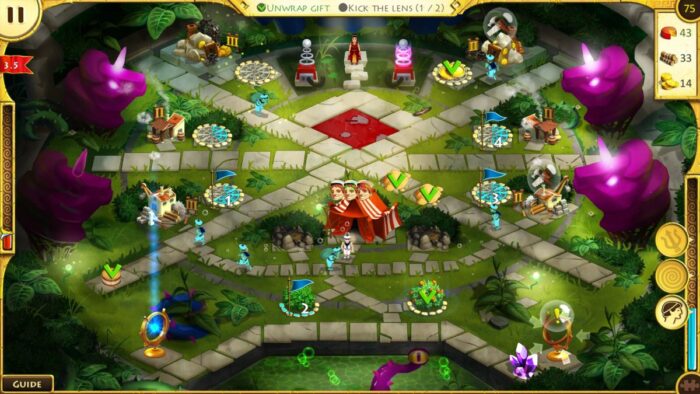 Plot: Jason and his friend Hercules have set out to steal the Golden Fleece from the land of Colchis.
Together, they will need to build a ship and guide it through a treacherous sea to reach their destination.
Chop wood from the giant Sacred Oak, defeat the dragon and steal the Fleece in this thrilling time management adventure! Beware – an unknown threat has followed you on the ship…
8. 12 Labors of Hercules VIII: How I Met Megara
Plot: Hercules is back and he's about to embark on an adventure that leads to love and romance!
After meeting a distraught young woman on the shore, Hercules learns that her sister, as well as her loveable cat, have been kidnapped by vicious Cretans.
Thankfully, these villains are also braggarts and left clues to their whereabouts. Now, Hercules must follow them to find the girl, and have a chance at winning Megara's favor.
9. 12 Labors of Hercules IX: A Hero's Moonwalk
Plot: Join your favorite heroes on a Space Odyssey! This time, Hercules receives a cry for help from Selene – the goddess of the Moon.
As it turns out, a dangerous monster is on the loose and aims to destroy the galaxy! Accompanied by his loyal friend Cerberus, Hercules will travel far and wide to stop the monster and bring peace to the world. The task isn't easy though.
There are unexpected twists and turns awaiting our hero in space including portals, alien technology, strange locations and riddles.
10. 12 Labors of Hercules X: Greed for Speed
Plot: A hot summer day in a beautiful garden was going to be as relaxing and peaceful as ever… until a powerful wave tore through destroying everything in its path!
What caused it? What kind of creature can move so fast that even the hero's sharp eyes can't see it?
Hercules knows that he can't allow this beast to roam the land causing chaos in its wake, so he decides to challenge the creature. But he needs to catch up to it first!
11. 12 Labors of Hercules XI: Painted Adventure
Plot: Emma is a normal girl in the 21st century, but when she's unexpectedly sent back to ancient Greece, she seizes the opportunity to join her favorite hero, Hercules, on his adventures!
Lucky for Hercules, Emma has magical art supplies, so anything she paints becomes real. If Hercules needs a bridge, a ship, or even dumbbells, all Emma needs is her imagination and her talent.
Join Emma and Hercules on an amazing adventure to Olympus and beyond as you help them break out of jail, rescue Megara, defeat King Eurystheus, and get Emma back to her own time in this incredible new Time Management strategy adventure!
12. 12 Labors of Hercules XII: Timeless Adventure
Plot: If only Hercules hadn't dozed off this morning with a fresh batch of donuts cooking. If only he hadn't decided to reverse time to save his precious pastries.
But all those choices are in the past, so now Hercules must repair the damaged world clock to restore the broken timeline and make sure the whole world still has a future! Besides that, Hercules's decision has made him an enemy of Chronos, the mighty god of time, and Chronos will get justice, one way or another!
Can Hercules appease Chronos, avoid deadly traps, repair the clock, and save the world? There's only one way to find out! Sharpen your skills for a Time Management Strategy game that will surely stand the test of time!
13. 12 Labors of Hercules XIII: Wonder-ful Builder
Plot: The noble citizens of Rhodes called brave Hercules for help. They needed his strength to build an enormous statue of great Helios, their god and protector.
Hercules decided to fulfil that request and started working. It turns out that our strong hero is an amazing builder capable of implementing any challenging project.
His passion for construction work was growing day by day presenting to Hellas new wonders.
14. 12 Labors of Hercules XIV: Message in a Bottle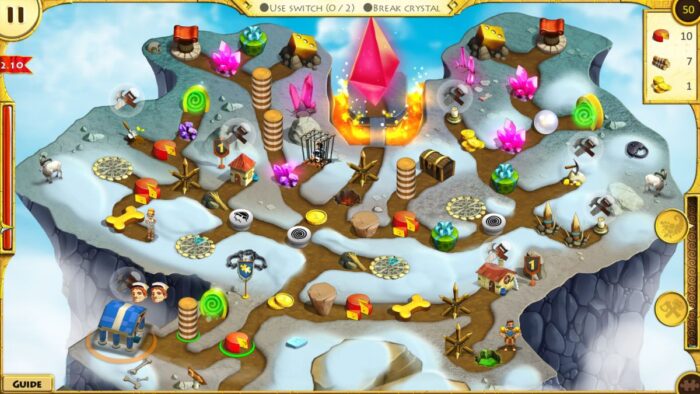 Plot: Hercules and Megara peacefully sailed on the ship enjoying the sun and breeze when a strange glowing bottle appeared on the sea surface.
Within it lied a message: a desperate call for help. Who could send it? And what happened to this person? Our heroic couple goes in search of answers immediately! And you will help!
More Top Time Management Games
If you are a fan of time management games like the ones listed above, but you'd like to try something new, check out the lists below. I am sure you will find all the games listed below amazing as well:
Conclusion
Now you know all the games in the amazing 12 Labors of Hercules games series, listed in order of release.
If I somehow missed any, let me know and I will immediately update this list!