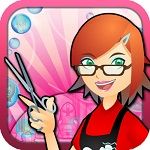 This post details the Sally's game series list in order.
From Gamehouse.
Time management games for Amazon Fire, Mac and PC. Including free demos to download.
And Collector's Editions, where available.
Check out my list of posts, included below. For more time management games like Sallys games.
Sally's Game Series List in Order
All of Sally's games, listed in order of release.
From: GamesCafe.com, Kuuasema Ltd, RealArcade/GameHouse.
Genres: Time Management Games, Building, Tycoon, Strategy, Simulation.
Sally's games in order of release: 1. Sally's Salon | 2. Sallys Spa | 3. Sally's Studio | 4. Beauty Secrets | 5. Kiss and Make-Up
1. Sally's Salon
First released: 2007.
Description: Help Sally make her way from the humble beginnings of a stylist in her hometown shopping mall. To the super star status of a top beautician in glamorous Hollywood. As you grow and evolve your very own virtual beauty salon, you'll meet a diverse group of emotional customers. From little old ladies to punk rockers, you'll work with Sally to make the world a more beautiful place one customer at a time!
All of the Sallys games are available for Amazon Fire!
Play GameHouse Game Apps on Fire Tablet:
Amazon Fire (US) or Amazon Fire (UK).
2. Sallys Spa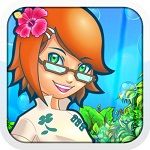 First released: 2008.
Description: After a much needed break from life in the hair salon business, Sally and her friend Nell are teaming up to take the Spa world by storm.
Visit gorgeous Spa locations spread across the world, on a quest to melt away everyone's stresses by relaxing in Sally's Spa.
Perform all kinds of Spa services from Facials, Manicures, Bath Bombs, Hot Stones Massages and more in this fast-paced Time Management game!
3. Sally's Studio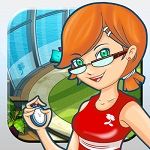 First released: 2010.
Description: Travel the world helping people feel their best!
Warm up on the beach, find balance at a mountaintop retreat, unwind in a peaceful courtyard and lots more.
Along the way, meet a colorful collection of customers.
From Teachers and Tourists. To Ballroom Dancers and Olympic Athletes.
4. Beauty Secrets
First released: June 2017.
Description: Looking for a new hairdo? Want to get your nails done? Need some special make up? There's no better place in Snuggford than Sally's Salon! Everyone's favorite beautician Sally is back and she's on a mission to beautify women across the globe – all while searching for her long lost love! Ready to join her (and her new side-kick François) on this hilarious journey?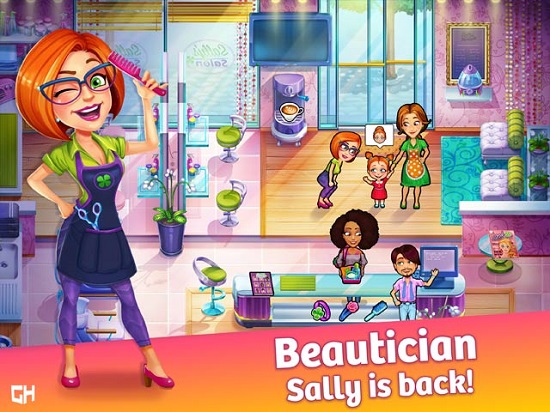 5. Kiss and Make-Up
First released: June 2018.
Description: Sally and François dive headlong into chaos and absurdity in a brand new spa!
Sally's Salon: Kiss & Make-Up is a thrilling tale of passion, love, danger, intrigue, and of course: beauty salons.
It will keep you laughing from the moment you begin until you reach the end of this crazy roller coaster ride. In short, a time-management story game like no other!
Game Play includes: 60 hair-curling levels, 28 bonus challenge levels, 23 beauty-themed mini-games, 6 beautiful locations and Stunning graphics!
Play GameHouse Game Apps on Fire Tablet:
Amazon Fire (US) or Amazon Fire (UK).
More Top Time Management Games
For more time management games like Sally's Spa for computer and mobile. You might like:
Roads of Rome Game Series for PC and Mac and Roads of Rome 4: New Generation Review.
Adelantado Trilogy Series List.
12 Labours of Hercules Games.
Monument Builders Series List for PC, Mac, mobile.
Virtual Villagers Games from Last Day of Work.
Emily's Delicious Games Series List.
Free Full Version Download of My Tribe Game for PC and Mac.
Totem Tribe for Full Version PC Download.
You might also like: Best Time Management Game 2019: Roman Adventures Britons Season Two.
And for details of all the series lists on this blog. See my A to Z Game Series Index.
Also check out my 10 Top Free Full Version BigFish Games for PC. With free full hidden object, time management, match 3 and simulation games to download.
Don't forget you can Subscribe or Follow and get updates of my latest posts.