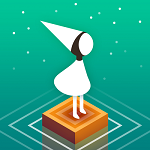 Monument Valley game app from ustwo.
A beautiful puzzle game.
Available for iOS. On iPad and iPhone
And on Android app stores for Android and Amazon Fire devices.
May 2017 Update: Monument Valley 2 now available on appstores.
August 2019 Update ustwo announce Monument Valley is in development. See below for details.
Monument Valley Game Apps
From: ustwo Studio Ltd.
Monument Valley
Release date: April 2014.
Description: In Monument Valley you will manipulate architecture. And guide a silent princess through a beautiful world. This is a surreal exploration through fantasy. And impossible geometry. Guide the silent princess Ida through mysterious monuments. Uncovering hidden paths. Unfolding illusions. And outsmarting the Crow People.
Features
Inspired by minimalist 3D design. Optical illusions. And palaces and temples from around the world. Every monument is a unique, hand-crafted world to explore.
Twist and drag to reshape the world and help Ida to explore. Designed to be easy for everyone to pick up, enjoy and complete.
Audio reacts to your manipulation of the world. To provide a surreal and beautiful soundscape. Best experienced with headphones.
iCloud sync your game across all your devices.
Play Monument Valley 1
Available on Amazon for: Fire Tablet (US) or Fire Tablet (UK).
Monument Valley 2
Release date: May 30, 2017.
Description: Guide a mother and her child as they embark on a journey through magical architecture. Discovering illusionary pathways. And delightful puzzles. As you learn the secrets of the Sacred Geometry.
Features
Completely new story from the Monument Valley universe. So you don't need to have previously played Monument Valley to enjoy Monument Valley 2.
Enjoy beautiful levels filled with illusory puzzles. Using brand new interactions.To explore the changing dynamics between characters.
Artwork inspired by an eclectic mixture of architectural styles. Artistic movements and personal influences. Each translated into stunning geometric structures.
Immerse yourself in interactive soundscapes. Tailored perfectly to every step of Ro and her child's journey.
Play Monument Valley 2
Available on Amazon for: Fire Tablet (US) or Fire Tablet (UK).
Monument Valley 3
Release date: TBA.
More Top Puzzle Game Apps
For more top puzzle-solving adventure games for tablet and phone. You might also like:
Cube Escape and Rusty Lake Games in Order.
Gone Home Interactive Mystery Game.
A Study in Steampunk for iOS, Android and Fire.
Blackwell Mystery Adventure Series List.
Tormentum Dark Sorrow for PC, Mac and Mobile.
All That Remains by Glitch Games.
Haiku's Adventure Escape Free Full Games.
Midnight Castle Update – Big Fish's Best Free Game!
The Forgotten Room by Glitch Games.
The Room Game Series from Fireproof Games.
Lifeline Games Series Order List.
Agent A: Chapters 1 to 5 – Latest News.
See also my latest Puzzle-Solving Games. News and reviews for PC, Mac, Android, Fire, iPad and iPhone.
Don't forget you can Subscribe or Follow to keep up to date with my latest posts.