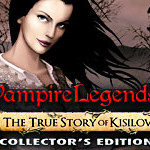 This Vampire Legends series list.
Includes all the Collector's Edition (CE) games in the series.
For computer on PC and Mac.
And on iPad.
From Organic 2 Digital.
March 2016 Update: Vampire Legends 3 now out on PC and Mac.
January 2017 Update: Vampire Legends 3 now out for iPad. See below for details.
Vampire Legends Series List
Genres: Detective, Mystery Games, Hidden Object, Puzzle, Vampires.
From: Organic 2 Digital (O2D).
Publisher: Big Fish Games.
1. The True Story of Kisilova
PC release: April 2013.
Plot: Vampire Legends: The True Story of Kisilova is an adventure game with elements of horror. Based on the first documented case of vampirism! 18th century Europe: fifty years after a great plague had swept the land of the Habsburg dynasty. The subjects of the Emperor are in danger again. A series of horrifying, unexplainable deaths occur in the remote Serbian town of Kisilova. Fearing that the plague may be striking again, the residents begin to flee their homes… The fate of Kisilova and the Empire lies in your hands!

Collector's Edition Features
62 hand-painted areas depicting remote lands of 18th century Europe.
Your fellow investigator will often come to your aid.
36 challenging mini-games and 21 scenes with hidden objects.
14 intriguing characters to meet during the investigation.
Additional adventure with multiple endings!
2. The Untold Story of Elizabeth Bathory
PC release: December 2014.
Plot: This time, the horrifying legend of Elizabeth Bathory is yours to discover!
You're a gifted finder of lost things, and a wealthy lord has enlisted your help in recovering his daughter, who never returned from the Countess' mansion.
Can you find her before she succumbs to the horrors that will go down forever in history?
3. The Count of New Orleans
PC release: March 2016.
Plot: You always wanted to visit New Orleans, and now you've finally made it!
Walking through the French Quarter, you take a photo of a house that belonged to the infamous Carter brothers.
Who were recently executed for a string of murders. But the photo reveals more than you bargained for…
More Big Fish Games Series
For more HO adventure game series on Big Fish Games! See my posts:
Grim Tales Games Series List.
Haunted Hotel Game Series List.
Phantasmat Game Series Order.
Danse Macabre Series.
Grim Legends Games List.
See also my latest Mystery Hidden Object Games News. For PC, Mac, tablet and phone. Including series lists, new releases and reviews.