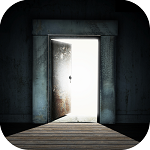 The Forgotten Room, a new mystery adventure.
From Glitch Games.
As a paranormal investigator.
You have been called to a creepy house.
To solve the mysterious case of a missing girl.
Available for iPad, iPhone, Kindle and Android.
New Puzzle-Solving Adventure Game App
Title: The Forgotten Room.
From: Glitch Games. (See also: All That Remains by Glitch Games.)
Released: October 2016.
Genres: Puzzle, Adventure, Point & Click.
The Forgotten Room
Plot: Play as paranormal investigator John "Buster of Ghosts" Murr as he explores yet another mysteriously creepy house. This time he's on the case of Evelyn Bright, a 10-year-old girl who went missing whilst playing hide and seek with her father. Will John solve the mystery of the missing girl and discover what really happened in the forgotten room?… [Source: iTunes]
Features
Use the in-game camera to take photos of all the clues you find.
This means there's less back tracking! As you can then make notes on these photos. Store them in your inventory. And use them for reference, as and when you need them.
Plenty of puzzles to get stuck in to!
Beautiful soundtrack.
Auto-save feature.
More Top iOS Puzzle Games
For more top puzzle-solving adventure games for iPad and iPhone. You might also like:
Drawn Series by Big Fish Studios for PC, Mac and Mobile.
Syberia Games for PC/Mac Download, iOS, PS4, Xbox One and Switch.
Haiku's Adventure Escape Games in Order.
Midnight Castle Update – Big Fish's Best Free Game!
Lifeline Games Series Order List.
Agent A: Chapters 1 to 5 – Latest News.
See also my latest Puzzle Games. News and reviews for PC, Mac, Android, Fire, iPad and iPhone.
Don't forget you can Subscribe or Follow to keep up to date with my latest posts.