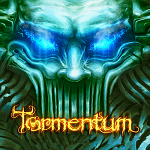 Tormentum – Dark Sorrow is a beautiful and atmospheric new game app.
With point & click adventure game play.
Gorgeous artwork, puzzles and interactive story!
Created for PC/Mac last year by OhNoo Studios.
They've now made a mobile version of it. For iPad, iPhone, Kindle Fire and Android.
Dark New Point & Click Adventure Game App
From: OhNoo Studio.
App store release: April 19, 2016.
Genres: Puzzle, Adventure, Point & Click.
Current US iTunes rating: 4.5 out of 5 from 49 player reviews.
Tormentum – Dark Sorrow
Plot: A nameless hero finds himself in a place between fantasy and nightmare. He doesn't remember his name nor where he comes from. Wandering through strange lands, he struggles to discover the truth about the world around him, as well as about himself… The story begins as the protagonist wakes up locked in a metal cage hanging below a large flying machine. It becomes clear he is its passenger against his will and the machine's destination is unknown. The only vague memory he can summon in his mind is that of a sculpture atop a hill, depicting human hands reaching towards the sky.
Description: The dreamlike, nightmarish atmosphere of the game was inspired by works of painters H.R. Giger and Zdzislaw Beksinski. The game's final look and feel was also strongly influenced by the universes of games such as Demon's Souls or Dark Seed. This unique mixture gave life to a bleak and depressing world.
Tormentum – Dark Sorrow – Mobile Game Features
THE GAME WORLD: 3 realms, differing in architecture and creatures inhabiting them. You'll meet characters with unique personalities who will help you – or try to prevent you from – reaching your goal.
ART: 75 hand-painted stages. The game also features over a hundred additional screens as well as dozens of paintings created by the mad painter residing in the cathedral.
PUZZLES: During your journey you will come against 24 varied logical puzzles and mini games.
STORY: A dark adventure between dream and reality.
MUSIC: Exceptional soundtrack with over 40 tracks.
Moral choices which will affect the game's ending.
4-6 hours gameplay.
Tormentum Game Download on Amazon
Available on Amazon for: Kindle Fire (US), Kindle Fire (UK), PC Download (US), Mac Download (US) and PC Download (UK).
More Top iOS Adventure Games
For more top adventure games for iPad and iPhone. You might also like:
Cube Escape and Rusty Lake Games Order.
Syberia Games for PC/Mac Download, iOS, PS4, Xbox One and Switch.
All That Remains by Glitch Games.
Haiku's Adventure Escape Games in Order.
Midnight Castle Update – Big Fish's Best Free Game!
The Forgotten Room by Glitch Games.
The Room Game Series from Fireproof Games.
See also my latest Point & Click Games. News and reviews for PC, Mac, Android, Fire, iPad and iPhone.
Don't forget you can Subscribe or Follow to keep up to date with my latest posts.