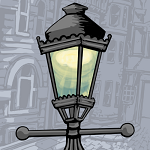 Top new interactive mystery novel from Hosted Games.
A Study in Steampunk: Choice by Gaslight.
A Victorian crime fiction inspired. Steampunk 'choose your own adventure'.
This interactive mystery game app. Is available on phones and tablets.
For iPhone, iPad, Amazon Fire and Android.
Top New Interactive Mystery Novel App
Title: A Study in Steampunk: Choice by Gaslight.
By: Heather Albano.
Publisher: Hosted Games LLC.
Released: November 2015.
A Study in Steampunk: Choice by Gaslight
Plot: The game is afoot! In a world of gaslit streets, mysteriously long-lived foreign nobles. And master criminals. Will you defend your Empire from spies or overthrow it from within? Advocate science and reason or learn forbidden magic? Romance men, women, both, or neither? End as a healer, a freedom fighter, a vigilante, or a traitor?
Game Play
Steam-powered mechs meet forbidden sorcery!
Inspired by Sherlock Holmes, Dracula and Jekyll & Hyde.
"A Study in Steampunk: Choice by Gaslight" is an epic 277,000-word interactive mystery novel.
Your choices control the story. Entirely text-based – without graphics or sound effects.
And fueled by the vast, unstoppable power of your imagination.
Features
Solve mysteries, hunt criminals, and match wits with enemy spies.
Defend your homeland from the machinations of a master criminal. And the conspiracies of the evil Vlaski Empire.
Search for the truth about the sorcerers. That reigned before the age of steam.
Build deep friendships, acquire powerful enemies. Perhaps even find true love.
Explore all the dark corners of a gaslit, fog-shrouded city… And unearth all its secrets.
Play A Study in Steampunk: Choice by Gaslight Game App
Available on Amazon for: Fire Tablet (US) or Fire Tablet (UK).
More Atmospheric and Interactive Detective Games
For more top interactive detective games like Sinking City. On consoles, computer, tablet and mobile. You might like:
L. A. Noire Dark Detective RPG. Available on PC, PS4, Xbox One and Switch.
Fahrenheit: Indigo Prophecy Game.
Broken Sword Series: 5 The Serpent's Curse.
This Is the Police Games for PS4, Xbox One and Switch.
Tormentum – A Dark Mystery Adventure Game.
Kathy Rain, Point-and-Click Adventure Game for iOS.
The ABC Murders Game by Microids – Review. For Mac, PC, Mobile, Xbox One and PS4.
Sherlock Holmes 12: The Devil's Daughter – Review. For PC, PlayStation 4 and Xbox One.
Sherlock Holmes Games Series, Listed in Order.
Syberia Game Series on Amazon US/UK. For PC, Mac, PS4, Xbox One and Switch.
The Sinking City by Frogwares Dark Open World Investigation Game. For PS4, Xbox One and Switch.
See also my latest Detective Games news and reviews.
Don't forget you can Subscribe or Follow to keep up to date with my latest posts.