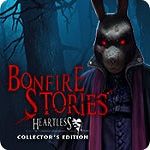 This post details the Bonfire Stories game series from Mariaglorum. Available for PC and Mac download including free demos and Collector's Editions (which include bonus content, more game play and extra features). Listed in order of release.
For more top hidden object games from Mariaglorum, see my list of posts below.
February 2020 Update: Bonfire Stories 3 now out for PC and Mac.
Bonfire Stories Game Series List
From: Mariaglorum | Genres: Detective, Mystery, Hidden Object, Puzzle.
Games in the Bonfire Stories series: 1. The Faceless Gravedigger | 2. Heartless | 3. Manifest Horror
1. The Faceless Gravedigger
Released: May 2017.
Plot: The Quiet Grove resort has been abandoned for years. After a series of guests mysteriously disappeared. Rumors blamed a terrifying figure called the faceless gravedigger. With no bodies or suspects, the case went cold. And the events faded into legend. But when you and your partner arrive to dig up a news story. You quickly find out that those tall tales were all true! Now the faceless gravedigger is on your trail. And if you can't escape, you'll become the latest chapter in this horrific legend…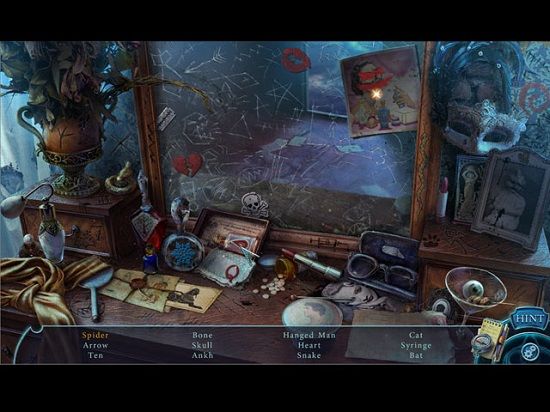 For more details, see my post: Bonfire Stories 1: The Faceless Gravedigger Review.
2. Heartless
Released: September 2018.
Plot: You were only a child when a red mist appeared in the woods and your father was murdered. What started as a quest for answers has since become an obsession. For the last five years, you've returned to the same campsite where your father died in the hopes of finding answers. Now, the mist has returned and another camper has been taken. Can you solve the mystery and save them before they meet the same grisly fate as your father?
For more details, see my post: Bonfire Stories 2: Heartless Review.
3. Manifest Horror
Released: February 2020.
Plot: Alan's letter sounded desperate, but Caroline found something far worse than she expected when she came back to town to help him. Now, with Alan missing, a foreboding fog blanketing the city, and past secrets piling up, Caroline must use her wits to stay ahead of the terrible evil lurking inside the fog. If you love Hidden-Object scenes, this is the game for you! You'll need eagle eyes to search through dozens of stunning scenes to help Caroline find the truth about the monster in the mist and to survive long enough to learn how to stop it in this horrifying, unique new Hidden-Object game!
More Mariaglorum Games
For more games from Mariaglorum. You might also like:
League of Light Games.
Mystery of the Ancients Game Series.
See also my New Mariaglorum Games News and Reviews posts. For PC, Mac, tablet and phone.
You might also like my Best Hidden Object Games for PC, Mac, Amazon Fire, Android, iPad and iPhone. With top 10 lists for every year starting from 2010! And my Hidden Object Games for PC and Mac – List Index.
More Horror Adventure Games
For more top horror adventure games including point-and-click games. You might also like:
Bad Dream: Coma, Indie Horror Point-and-Click for PC and Mac.
Maze Hidden Object Game Series by Mad Head Games.
The Count Lucanor, Fantasy Horror Game for Switch.
Cube Escape and Rusty Lake Games in Order.
Black Mirror Reboot for PC, Mac, PS4 and Xbox One.
9 Clues Detective Games by Tap It and Artifex Mundi.
White Day: A Labyrinth Named School for PC and PS4.
Twisted Lands Trilogy from Alawar.
Vampire Legends Series List by Organic 2 Digital.
True Fear Forsaken Souls Trilogy by Goblinz.
Five Nights at Freddy's (FNAF) Games List.
Spirit Hunter 2: NG for PS4 and Switch.
Monstrum Release for Switch, PS4, Xbox One.
Don't forget you can Subscribe or Follow to keep up to date with my latest posts.