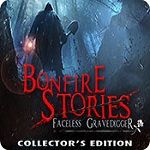 Review of Bonfire Stories 1.
The Faceless Gravedigger.
First in a new scary hidden object series.
From Mariaglorum. Darker in tone. Compared to their previous HOPA games.
For more of their other hidden object games. See my posts, included below.
May 2018 Update: Now also available for iPad and iPhone.
September 2018 Update: Bonfire Stories 2 now out for PC and Mac.
December 2018 update: Now out for Amazon Fire and Android.
New Spooky Mariaglorum Game!
Title: Bonfire Stories: The Faceless Gravedigger.
From: Mariaglorum.
Genres: Detective Games, Mystery, Hidden Object, Puzzle.
Released: May 2017.
Bonfire Stories 1: The Faceless Gravedigger
Plot: The Quiet Grove resort has been abandoned for years. After a series of guests mysteriously disappeared. Rumors blamed a terrifying figure called the faceless gravedigger. With no bodies or suspects, the case went cold. And the events faded into legend. But when you and your partner arrive to dig up a news story. You quickly find out that those tall tales were all true! Now the faceless gravedigger is on your trail. And if you can't escape, you'll become the latest chapter in this horrific legend…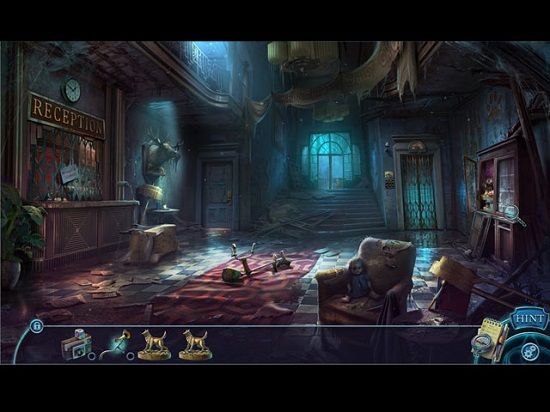 Collector's Edition (CE) Features
5 Chapters plus Bonus Chapter.
4 game modes: Easy, Advanced, Expert, Custom. Select the amount of help, sparkles, tips, hints and skips you want to play with.
Seek and find inventory items as you explore each location. Use the right item(s) to complete your current task.
Find additional inventory items by solving puzzles. And play mini and hidden object games.
Collectibles: Seek out all of the figurines (9) and paw prints (25). That are hidden throughout the game.
Map – use to fast-travel to a location. The map can also be used to see where an action is available. And also indicates where there's a paw print to be collected. Depending on which mode you play in.
Strategy Guide included.
Other CE Extras: Achievements, Music, Wallpapers, Concept Art and Videos.
Game Play
You play as one of the two journalists. Who are hoping to succeed where others have failed. In uncovering the truth behind the urban legend of The Faceless Gravedigger. And discover what really happened to the people who mysteriously disappeared from the once popular resort, Quiet Grove.
Exploring the now dilapidated, seemingly abandoned holiday resort. Look for clues and leads to get to the bottom of this mystery. Collect inventory items as you search each room and area of the resort.
With a range of puzzles and mini-games, that you'd expect in a HOPA game. Puzzles can be reset or skipped as required. Some puzzles are part of a multi-step HO game. And there's a very good maze-based puzzle and inventory game. Located in the basement of the resort. Where you'll need to find inventory items to help you get out of the maze of tunnels, under the hotel.
There are also hidden object games. Including silhouette and text list HOGs. Some items require interaction. Others get you to find multiples of the same item using a list of clues. And there are some HOGs that involve multiple steps. For example, playing a number of different types of HOGs. That finish in a puzzle game.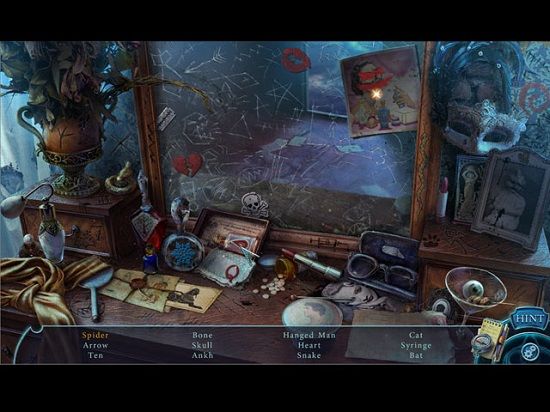 Review
As I mentioned above, this is the first in a new HOPA series from Mariaglorum. And it has a darker, more creepy plot. In comparison to their previous series' (see below for a couple of examples).
Though, the plot theme and game play may be familiar to hidden object fans. I think this game managed to create the right amount of tension. And integrate the game play into the plot. To make it engaging, spooky and an enjoyable game to play. Plus the ambient sound effects, minimal music and dark visuals helped to intensify the tension.
Just two things lacking in this game. First, some of the voice-overs were out of step with the tone of the game. For example, the manager sounded slightly comical. And as you can't fast-forward the dialog. You either had to skip his dialog or listen to it completely. This had a jarring effect of taking you out of the creepy atmosphere.
And secondly, the gameplay was a little on the easy side. And didn't really surprise or challenge enough.
However apart from this, overall this is a good scary HOPA game. And a solid first chapter in this new urban legend themed game. So if you are looking for a new scary, (that's mildly scary, not jump-scare scary horror) HOPA game. I recommend checking out the free demo (link included below). And see if this'll be something you'd like.
Play Bonfire Stories: The Faceless Gravedigger on Amazon for:
Fire Tablet (US) or Fire Tablet (UK).
This is one of my 10 Best Hidden Object Games 2017 for Mac and PC (Part 2).
More Top Mariaglorum Games
For more games from Mariaglorum. You might also like:
Bonfire Stories 2: Heartless Review
League of Light Game List.
Mystery of the Ancients Series List.
See also my latest Mariaglorum Games for PC, Mac, tablet and phone. Including series lists, new releases and reviews.
And my latest Mystery Adventure Games. News and reviews for computer and mobile.
Don't forget, you can Subscribe or Follow and get updates of my latest posts.