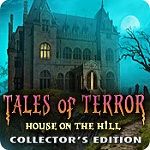 This Tales of Terror games list.
Includes all of the games in this scary HO series.
From Deep Shadows Games.
Listed in order of release. For PC, Mac and iPad.
For another top series by Deep Shadows, see my post included below.
June 2018 Update: Tales of Terror 5 new out for PC and Mac.
Tales of Terror Games List Order
Developer: Deep Shadows Games.
Publisher: Big Fish Games.
Genres: Mystery, Hidden Object, Puzzle.
Collector's Editions (CE) include extra content, more game play and bonus features.
1. Tales of Terror: Crimson Dawn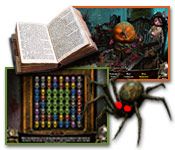 PC release: September 2012.
Plot: A group of hooded, shadowy figures abduct your brother right before your eyes in Tales of Terror: Crimson Dawn!
Your search for him leads you to a remote mansion plagued by a sinister secret.
Can you unravel the mystery …
and rescue your brother from eternal darkness?
2. Tales of Terror: House on the Hill
PC release: May 2014.
Plot: When you signed up for a ghost tour at an old estate, you were just hoping to spend some time with your sister, who loves the paranormal.
But the brochure never mentioned the real danger you would encounter the second the doors close behind you. Walls shift and corridors expand, creating a terrifying maze that separates you from your sister.
Now you must outwit dangerous traps and find a way out before the house claims another victim. Summon your courage and get ready for thrills in this Hidden Object Adventure game!
3. Tales of Terror: Estate of the Heart
PC release: February 2016.
Plot: Do you believe in ghosts? Your father believes science can explain the unexplainable, but your best friend is convinced that spirits are real.
Together, the three of you will investigate the cursed Heart Family Estate and decide once and for all!
This spooky hidden-object puzzle adventure game will keep your spine tingling as you uncover the dark secrets within this abandoned mansion!
Enjoy a variety of hidden-object puzzles: morphing, silhouette, combination, and more! There are even a few super puzzles to really challenge your brain!
4. Tales of Terror: Art of Horror
PC release: March 2017.
Plot: An anonymous tip on your long-lost brother's whereabouts leads you to the Artem Estate. You want to find your little brother, but nothing's as it seems in this dismal dwelling. You quickly find yourself fighting for your life as you try to avoid becoming the Estate's next victim. Can you find your brother and escape before it's too late?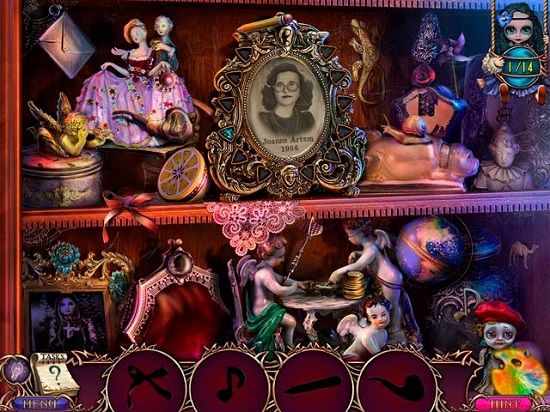 5. Tales of Terror: The Fog of Madness
PC release: June 2018.
Plot: While on your way to a remote island for your latest story, your boat inexplicably crashes.
When you awake, you find yourself trapped and fighting for your life!
Nothing is as it seems on this island as you traverse through ancient grounds to escape your captors.
What's more, a strange fog has begun its invasion onto the property.
Do you have what it takes to uncover the story behind the mysterious fog and escape with your life?
More Top Hidden Object Games
For more top hidden object adventure games. For computer and mobile. You might like:
Also by Deep Shadows: Haunted Train Game Series List.
Dark Parables Game Order by Blue Tea and Eipix.
Labyrinths of the World Games by Domini.
League of Light Games by Mariaglorum.
Mystery Trackers Series by Elephant.
Myths of the World Series by Eipix.
See also my latest Mystery Adventure Games. News and reviews for PC, Mac, Android, Fire, iPad and iPhone.
And my 10 Best Hidden Object Games Series of all Time! For computer and mobile.
Don't forget, you can Subscribe or Follow and get updates of my latest posts.