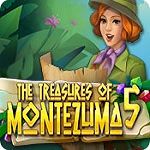 This Treasures Of Montezuma games list.
Includes all of the match 3 games in this popular series.
For PC, Mac, Nintendo DS, iPad and iPhone.
Including downloadable versions and free online demos.
For more top match 3 games for iOS, PC and Mac. See my posts, included below.
The Treasures Of Montezuma Games List
From: Wellore/Alawar Games/Buka Entertainment.
Genres: Match 3, Puzzle, Strategy.
The Treasures Of Montezuma 1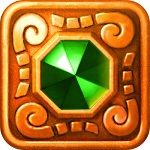 First released: 2007.
Plot: In The Treasures of Montezuma, you'll do more than match ancient artifacts and activate powerful magic totems.
You'll also follow the beautiful and clever Dr. Emily Jones as she solves a mystery that can transform the world.
The beginning of her quest takes her to the mountains of Mexico, where she makes an astounding discovery that sets the archaeological world on fire.
But that's only the beginning of the challenges she'll face.
Play Treasures Of Montezuma 1
Available for Nintendo DS for: US Amazon or UK Amazon.
The Treasures Of Montezuma 2
First released: 2009.
Plot: Return to the jungle in The Treasures of Montezuma 2, an all-new Match 3 game with more levels, more challenges and more fun!
Powerup totems and unleash special powers by making multiple matches of
the same color token.
Then rack up a high score by activating Score Frenzy with a series of insanely fast matches!
Finally, unlock trophies for performing amazing feats as you try to collect all of the gems on each level before time runs out.
Play Treasures Of Montezuma 2
Available from US Amazon for: Nintendo DS.
The Treasures Of Montezuma 3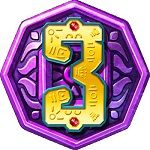 First released: 2011.
Plot: Match tokens to unlock incredible riches in The Treasures of Montezuma 3!
With Casual and Timed modes to enjoy, 160 levels to beat, and dozens of mind-bending mini-puzzles to solve, you could be in the jungle for months!
Enjoy Casual and Timed modes! Upgrade your power-ups between stages!
Unlock incredible riches!
The Treasures Of Montezuma 4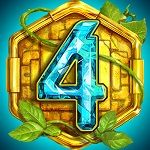 First released: 2013.
Plot: Free the gods' powers and fulfill your destiny in the Treasures of Montezuma 4!
This new match-three game is overflowing with mystery and excitement!
Follow the story of Anna, who travels to an Aztec ruin to uncover an ancient secret.
The journey is loaded with tons of levels, three all new game modes, and an epic boss battle that you will never forget!
The Treasures Of Montezuma 5
First released: 2015.
Plot: A thrilling gem-matching adventure awaits those who dare to explore the jungle of the Aztecs, where untold treasure lies hidden deep within an ancient temple! Will you dare to venture into the tangle, where you'll discover the long forgotten powers of the totems, and learn to unleash their magic on arrays of glittering gems? Can you master the variety of bonuses, and use their explosive abilities to rack up insane high scores? And will you be able to complete each quest that stands before you, no matter how formidable?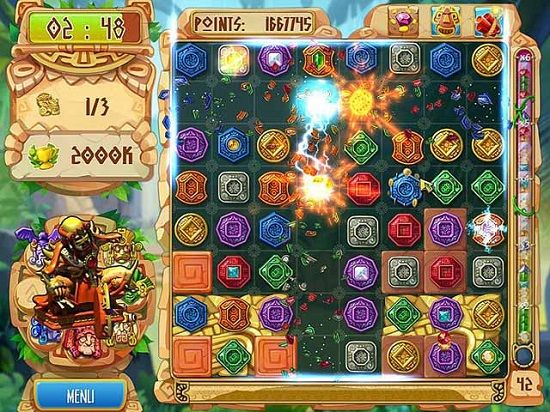 More Match 3 Games for PC, Mac, Android and iPad
Sir Match-a-Lot Match 3 Review.
4 Elements II Match 3 Review.
Free the Witch Match 3 Review.
Laruaville 5 Match 3 Game from FRH.
See also my latest Match 3 Games posts. For PC, Mac, Android, iPad and iPhone match-3 games news and reviews.
For more top match 3 games, check out my: 10 Best Match 3 Games for PC and Mac.
See also 10 Top Free Full Version BigFish Games for PC. With free hidden object, time management and simulation games.
Don't forget you can Subscribe or Follow and get updates of my latest posts.