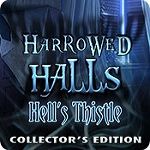 Review of Harrowed Halls 2: Hell's Thistle.
A new Collector's Edition on BigFish.
And the second chapter in a new scary hidden object series!
From Daily Magic Productions.
Available to download and play with free demo, on PC and Mac.
See also my post included below, for details of the first chapter in this spooky series.

Harrowed Halls 2: Hell's Thistle
From: Daily Magic Productions.
Genres: Detective Games, Mystery, Hidden Object, Puzzle.
Released: October 2017.
Plot: Your sister is in the hospital with a mysterious illness! Your only clue is her mumbling about an abandoned house that you explored as children. The search for a cure quickly takes a dangerous turn as spirits interfere with your investigation! Can you solve a cold-case about a series of murders in the house and save your sister in time?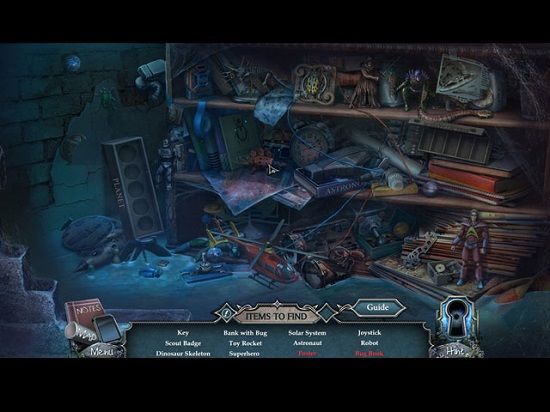 Collector's Edition – Game Play and Features
Learn the truth behind the Wantley Family tragedy in the bonus chapter.
Find lots of collectible hidden coins and morphing objects!
Never get lost with the strategy guide!
Enjoy exclusive wallpapers, concept art, music, and more!
Review
Hell's Thistle uses a great ghost story and plenty of challenging game play. To propel you through this scary second chapter in the series!
With many tricky puzzles to solve. And a nice variety of multi-step interactive hidden object scenes.
This ghost story, involves you travelling back in time, to the 1980s. To solve the mystery of a haunted house from your childhood. And there are lots of plot twists and jump-scares to build the right atmosphere!
Combined with the dark visuals, good voice-acting and eerie music. This all works together to ramp up the creepiness and tension of this ghostly game. Overall this is a thrilling mystery puzzle-solving game, with plenty of excellent gameplay.
Harrowed Halls 2 is one of my Best Hidden Object Games of 2017 for PC and Mac!
This is the 2nd installment in the series. See also: Harrowed Halls 1: Lakeview Lane. Available on PC, Mac and iPad.
More Top Daily Magic Games
For more hidden object games by Daily Magic Productions:
Dark Dimensions Series.
Ominous Objects Games.
Sable Maze Games Series.
For the latest games lists updates, see also: New Games Series Releases. For PC, Mac, Android, iPad and iPhone.
Don't forget, you can Subscribe or Follow and get updates of my latest posts.