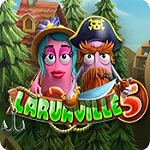 Laruaville 5 from FRH Games.
The latest chapter in the match 3 adventure series.
Available to download for PC.
In this new installment, the friendly ghosts are stuck on a remote island!
With challenging match 3 games.
Plus mini-games including hidden object, Solitaire and spot the difference games.
Build a ship to help them get back to the mainland!
For the full Laruaville series so far. See also, my post included below.

New Big Fish Match 3 Game for PC
From: FRH Games.
Genres: Puzzle, Match 3, Adventure.
Laruaville 5
PC release: October 2016.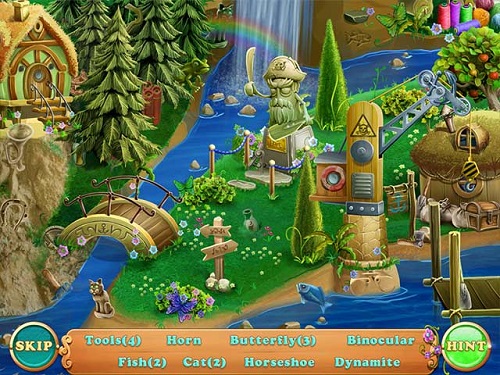 Plot: A couple of ghosts, feeling the call of the sea, decided to go on adventure. Unfortunately, a violent storm tore their ship apart and sunk it. Luckily, nobody got hurt, but they were cast ashore on an uninhabited island. The mainland is within visible distance, but how will they get back? Can they build a new ship? Building ships is not an easy task; it requires a lot of materials, knowledge and energy… Will you be able to help them out in such a hard task?
Laruaville 5 – Features
New tricky Match 3 levels. Played with 3 game modes to add to the challenge: Relaxed, Limited Time and Limited Moves.
Help the friendly ghosts, shipwrecked on a remote island. Collect coins, materials, knowledge and energy. So that they can build a ship and escape to the mainland!
Your objective is to collect all the coins and trunks in each Match 3 level. For more details about the coins and trunks, see below.
Use power-ups to help you clear obstacles. Making the coins, trunks and other useful items accessible to collect them.
Obstacles you'll encounter include boards, rubble (ground, clay and stones), fog, shields and bugs!
Additional tricky features include Red and Green cells. Beware these can explode when activated. And will destroy adjacent objects. So make sure you want these to be activated. Otherwise you may lose out on collecting important items.
Plus play an assortment of mini-games to earn more points and coins. Including 20 Solitaire games, Spot the difference and hidden object scenes.
As well as collecting the coins and trunks. You also want to earn the best score to move up the levels. Make the most combos and use power-ups to reach a good score.
The higher levels you reach the better power-ups and other useful tools you'll unlock.
Power-ups includes a dynamite bundle combo. Make a dynamite match 3 combo to explode obstacles.
To create more dynamite bundles, make Match 4 and Match 5 combos.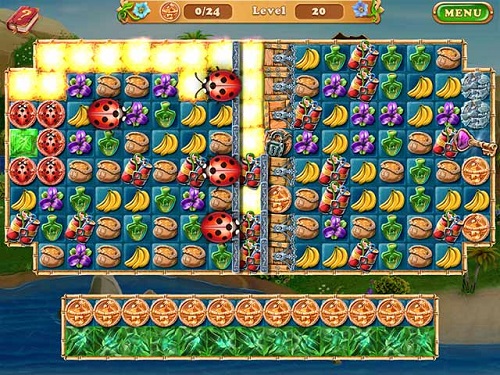 Laruaville 5 – Coins and Trunks
You have a range of coins to collect. Apart from the simple coin, the others require additional action to make them available for you to collect them.
Coins include: simple coin, dirty coin – first you need to remove the dirt by making a combo or explosion next to it, trunk coins – collect all these to unlock a trunk, frozen coin – requires fire to free it first, halved coins – bring the 2 halves together before you can collect it, locked coins – requires a key to unlock it, coin moulds – which needs a drop of gold in it to make a coin.
Once you've cleared all the trunk coins, you activate the Trunk. In the trunk you'll find various items. For example keys or power-ups.
Laruaville 5 – Review
Laruaville 5 continues the series with some nice new challenging twists. With a huge range of obstacles that you have to think about first. Before you get down to playing the game, and consider how to tackle them. Keeping in mind your objective of collecting all the coins and trunks. This makes this installment even more tricky and interesting than previous Laruaville games.
Now not only do you have to clear the board with match 3 or more combos. You also have to take into consideration how you are going to use power-ups. And matching combos to free items that are currently inaccessible or blocked. Whether it's making more dynamite to blast your way through. Or using cannons, fire, bombs or other weapons to unblock items. This all makes this new Laruaville game more difficult. But also more satisfying when you complete each level.
Plus there are building elements and mini-games throughout to mix things up a bit. With this variety, you get more than just the run of the mill match 3 game. So if you are looking for a match 3 game with more interesting game play and challenge, you'll enjoy Laruaville 5.
This is the 5th installment in the series. See my post: Laruaville Match 3 Game Series. For all the game titles in the series so far. For PC and Mac, in order of release.
More Match 3 Game Reviews
Sir Match-a-Lot Match 3 Game.
4 Elements II Match 3 Game.
Free the Witch Match 3 PC Game.
See also my New Match 3 Games posts. News and reviews for PC, Mac, Android, Fire, iPad and iPhone.