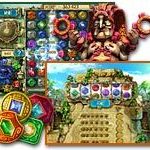 This top 10 best match 3 games list.
Includes a variety themes and types of match3 games.
From simple addictive match3 gaming.
To games involving other gaming elements.
Such as puzzles, adventure and goals.
All available to download for computer.
Top 10 Best Match 3 Games for Mac/PC
1. The Treasures of Montezuma 3
From: Alawar Entertainment. See also my The Treasures Of Montezuma Games List.
Released: 2011.
Description: Match tokens to unlock incredible riches in The Treasures of Montezuma 3! With Casual and Timed modes to enjoy, 160 levels to beat, and dozens of mind-bending mini-puzzles to solve, you could be in the jungle for months!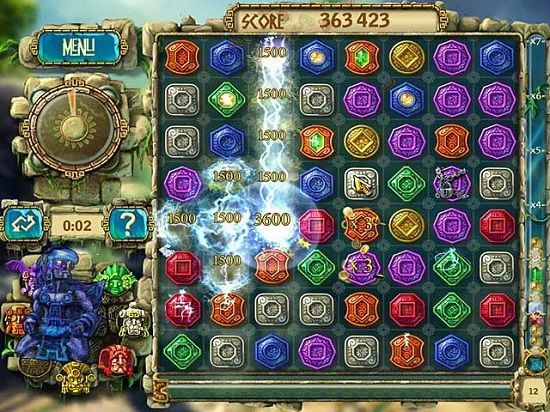 2. Puppy Sanctuary
From: Pi Eye Games.
Released: 2011.
Description: Strange alien traps are popping up all over Puppy Island! Rescue the trapped puppies before the aliens have a chance to retrieve them! Keep your rescued pups safe, warm, and happy in your Puppy Sanctuary. Use collected gems to buy toys and decorations for different locations and search for food and firewood supplies within the ancient island ruins. Use your Match 3 talents to save all the adorable animals in this fun game!
3. Sir Match-a-Lot
From: Elephant Games.
Released: 2016.
Description: Strap on your sword and grab your shield, it's knight time! Travel to faraway locations with your Match 3 skills to battle menacing monsters and powerful gatekeepers in this puzzle challenge!
For more details, see my: Sir Match-a-Lot Free Full Match 3 Game for PC – Review.
4. Fishdom
From: Playrix Entertainment.
Released: 2015.
Description: Create the perfect dream aquarium for all your finned friends. See your pet sims grow and thrive in their happy kingdom, Fishdom. Progress through challenging boards and solve puzzles to earn cash. Use the money to buy eye-candy fish and attractive ornaments. Win awards and upgrade your virtual tank as you perfect your aquarium design skills in Fishdom, a subterranean Match-3 game.
5. Cave Quest
From: MD Studio.
Released: 2011.
Description: The evil spirits that haunt the narrow trails of a mountain have been trapping travelers, and have captured your family! Trapped in a labyrinth of caves, it's up to you to go spelunking and save the people from certain doom! Unravel the mystery of the Ghost King and save your family in Cave Quest, a fast-paced and exciting Match 3 game!
6. Heroes of Hellas 3: Athens
From: Jaibo Games/Alawar.
Released: 2007.
Description: Rebuild Athens from the ashes of its destruction in Heroes of Hellas 3: Athens! Secure the help of the Heroes of Olympus as you battle an evil god in this incredible Match 3 game. Gather gold, meet the needs of a ravaged population, and search for legendary lockets that will allow you to summon the gods and appeal to them for help. Dive into this epic story and save the day in Heroes of Hellas 3: Athens!
7. 4 Elements II
From: Playrix Entertainment.
Released: 2012.
Description: Misfortune has befallen the magic kingdom again! A careless charm made the formerly wondrous ancient world overcast, beset with darkness and despair. Four fairies of the elements were deprived of their magic power. Be the hero the kingdom seeks: set the fairies of earth, air, fire and water free, and restore the book of magic in the sequel to the renowned puzzle game!
See my review: 4 Elements II Review.
8. Silver Tale
From: Playcademy.
Released: 2016.
Description: Take a fantastical journey across the kingdom. Solve quests, collect rare artifacts, build upgrades, and even craft new items! Traverse huge levels and solve mind-bending puzzle challenges in this innovative new match-3 experience!
9. Ricky Raccoon 2: Adventures in Egypt
From: Rokapublish.
Released: 2016.
Description: Ricky Raccoon 2: Adventures in Egypt features everybody's favorite raccoon at the Nile. After his successful treasure hunt at the Amazon River, his next big expedition into the unknown takes him into the heart of Egypt. Join Ricky, his grandpa and their parrot on a quest for 5 mysterious artifacts hidden in ancient Egypt.
10. Runefall
From: Suricate Software.
Released: 2014.
Description: Explore the beautiful kingdom of Silverdale in this innovative new Match-3 adventure that pairs the classic matching mechanic with discovery, item collection, and even quests! Traverse huge environments, collect resources, overcome obstacles, solve puzzles and upgrade the quaint village of Rivermoor.
More Top Match 3 Games for PC & Mac
Free the Witch Match 3 Game Review.
Laruaville 5 from FRH – Review.
See also my latest Match 3 Games – News and Releases.
Don't forget you can Subscribe or Follow and get updates of my latest posts.