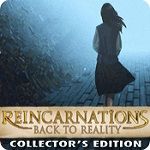 This Reincarnations game series list.
Includes all of the games.
In this hidden object series.
Listed in order of release.
Available on desktop for PC and Mac.
If you have a series list, you'd like to see on this blog. You can send me a request, see below for details.
Reincarnations Game Series Order
All of the Reincarnations hidden object games in order. Including Collector's Editions where available. Collector's Editions (CE) include extra content, more game play and bonus features.
From: Vogat Interactive.
Genres: Detective Games, Mystery, Hidden Object, Puzzle.
1. Reincarnations: The Awakening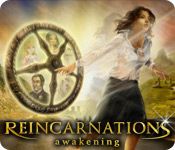 PC release: 2009.
Plot: Jane is a professional copywriter who makes her living writing about makeup and fashion.
A major magazine has given her a huge opportunity to write the article of her career on Reincarnation!
Help her explore and experience her eclectic past lives and write her award-winning story.
Go on an exciting adventure as you travel through time and space in this fantastic Hidden Object Puzzle Adventure game.
2. Reincarnations: Uncover the Past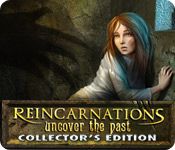 PC release: 2010.
Plot: Jane and Dr. Herzle have made a major breakthrough in reincarnation studies, but their hard work is compromised when Jane is kidnapped!
Help her explore past lives as she tries to save her own life in the present in Reincarnations: Uncover the Past.
Use your Hidden Object talents to take on the evil kidnappers and discover valuable clues.
3. Reincarnations: Back to Reality
PC release: 2011.
Plot: Four angry entities insist that you return to the past and correct your own mistakes! Travel into your past lives, set things right, and restore your karmic balance in this thrilling Hidden Object Adventure Game!
More Games like Reincarnations
For more HOPA games like Reincarnations. Available on computer and mobile. You might also like:
Shiver Game Series.
Dana Knightstone Game Series.
Awakening Games List.
Strange Cases Game Series.
See also my Game Series Lists on this Blog. For an A to Z index of ALL the series lists here, on rgamereview.com. And for details of how you can send me a quick request. If you have a fave game series list that you'd like me to do!
Checkout my latest Mystery Adventure Games. News and reviews for computer and mobile.
Don't forget, you can Subscribe or Follow and get updates of my latest posts.