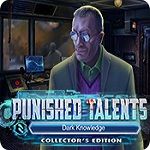 This post details the Punished Talents game series.
With all of the games in this hidden object detective adventure.
Including the third chapter, released on Big Fish today.
Developed by Blam! Games.
Available for PC and Mac, including free demo downloads. And on tablet and phone.
For more top HO games by Blam! and other recommended series lists. See my posts included below.
Punished Talents Game Series
From: Blam! Games.
Genres: Detective Games, Mystery, Hidden Object, Puzzle.
1. Seven Muses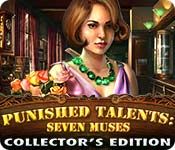 Released: November 2013.
Plot: Life imitates art with deadly results in Punished Talents: Seven Muses!
Several of your close friends have been murdered in Boston recently, and the crimes are identical to ones described in books written by author Russell Pollack, your husband.
Evidence found at the crime scenes only condemns Russell further, and soon he goes on the lam.
It's up to you to figure out who the real killer is before even more people – including you – end up dead.
Find clues and explore the gorgeous world of 1930s Boston as you set out to save your friends and prove Russell's innocence in this thrilling whodunit!
2. Stolen Awards
Released: March 2016.
Plot: You and your fellow scientist colleagues are gathered in a remote European castle to compete for the most prestigious scientific award, the Pride of Humanity.
But things quickly go awry when one of the contestants suddenly falls suspiciously ill.
Now you find yourself cut off from the world and in a race against time to track down a potential murderer.
Explore the deepest corners of the castle as you uncover clues and conspiracies in this thrilling Hidden Object Puzzle Adventure game!
3. Dark Knowledge
Released: October 2018.
Plot: Your brother's been kidnapped, and the criminal behind it has demanded that you investigate! Your only hope of saving your family is by tracking down the other kidnapping victims. Can you stop this mad criminal before it's too late? Find out in this chilling hidden-object puzzle adventure game!
Collector's Edition bonuses: See what you'll risk when a villain strikes close to home in the bonus game! Hone your detective skills as you search for every morphing hand print. Enjoy unlocking a variety of unique and fun achievements. If you're feeling lost, check out the comprehensive strategy guide. Enjoy exclusive wallpapers, concept art, and more!
Hidden Object Game Series by Blam!
Dangerous Games Series List.
European Mystery Game Series Order.
Fierce Tales Games Series List.
More Top Hidden Object Game Series
For more HOPA game series for computer and mobile. You might like:
Dark Romance Game Series by Domini.
Edge of Reality Games by 4Friends.
House of 1000 Doors Games from Alawar Five-BN.
Phantasmat Game Series by Eipix.
Whispered Secrets Game Series by GrandMA Studios.
See also my Top Puzzle-Solving Games. News and Reviews for PC, Mac, Android, Amazon Fire, iPad and iPhone.
Don't forget you can Subscribe or Follow to keep up to date with my latest posts.