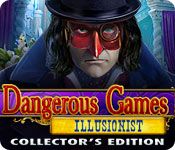 This Dangerous Games series list.
Includes the latest Collector's Edition (CE) games.
From Blam! Games HOPA series.
For computer on PC and Mac.
And on mobile for tablet and phone.
For more top HO games. See also my posts, linked below.
Dangerous Games Series List
From: Blam!
Publisher: Big Fish Games.
Genres: Mystery, Hidden Object, Puzzle.
1. Prisoners of Destiny
PC release: January 2014.
Plot: While playing an innocent game of cards, you find yourself plunged into a real life game. Now you must work with your friends to conquer each level and make it out of the game with your lives.
2. Illusionist
PC release: February 2015.
Plot: Twenty years ago at the first Championship of Illusionists, tragedy struck, burning down the famed Taylor Hotel and killing the winning magician. Now, the second Championship is set to take place at the newly rebuilt hotel, but a strange masked character has abducted one of the contestants. Can you stop this trickster and save the competition from another disaster?
More HOPA Games by Blam!
European Mystery Series.
Punished Talents Game Series.
Fierce Tales Series in Order.
More Big Fish Games Series
For more HO adventure game series from Big Fish Games! See my posts:
Fear for Sale Games List.
Off the Record Game Series.
Final Cut Game Series.
Danse Macabre Series.
See also my Top New Mobile Games. News and reviews for tablet and phone.