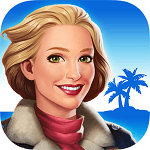 Pearl's Peril, top free hidden object game from Wooga GmbH.
Follow the adventures of 1920's socialite and aviator, Pearl Wallace!
With hidden object, puzzle, building and mystery adventure game play.
Details of Pearl's Peril latest update for Amazon Fire, included below.
Also available to play on Facebook, iPhone, iPad and Android.
Top Free HOPA for Fire
Title: Pearl's Peril: Hidden Object.
From: Wooga GmbH.
Genres: Detective, Mystery, Hidden Object, Puzzle, Adventure, Story-Rich.
Amazon Fire release: June 2017.
Available on other platforms: Facebook, iPhone, iPad, Android.
Pearl's Peril
Plot: Pearl Wallace lives the exciting life of an heiress and socialite in 1920's New York City. That is, until her father's sudden suicide plunges her into a world of intrigue and mystery. Despite overwhelming evidence to the contrary, Pearl knows in her heart that her father's death was no suicide. She resolves to stop at nothing as she seeks to unravel the series of events leading to his untimely death… As an ace pilot and cunning detective, Pearl flies headfirst into a whirlwind adventure which takes her around the world, from the depths of Africa to the heights of the Eiffel Tower. But she'll need your keen eye if she's going to find the evidence she needs to confirm her suspicions; that her father didn't commit suicide at all. He was murdered… [Source: Amazon]
Game Play and Features
Beautiful, richly drawn scenes and items to find.
Get the real feeling of an interactive story.
Solve the mystery. Enjoy 90 chapters and 540 scenes, full of clues to find.
Build your perfect island and open up new chapters.
Travel the world. Experience the magic of Paris, London, and Shanghai in the 1920s.
Latest Update
August 2019 Update: WELCOME TO WEST AFRICA – The rich cultural history of West Africa is celebrated in our newest set of decorations. Welcome the people and wildlife of this amazing region of the world to your island!
Play Pearl's Peril
Available on Amazon for: Fire Tablet (US) or Fire Tablet (UK). Free download/freemium game, with optional in-app purchases,
More Games Like Pearl's Peril
For more detective hidden object puzzle games like Pearl's Peril. For Android, Fire, iOS and Facebook. You might like:
June's Journey by wooga for Amazon Fire Download.
Queen's Quest Games by Brave Giant and Artifex Mundi..
Haiku's Adventure Escape Games in Order.
Criminal Case Games for Facebook and Mobiles.
New York Mysteries Series from FiveBN.

You might also like Agatha Christie Hidden Object Games List for Computer.
Don't forget you can Subscribe or Follow to keep up to date with my latest posts.