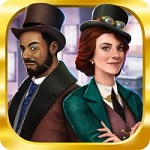 Criminal Case Season 4: Mysteries of the Past.
New out on the app stores.
For iOS, Android and Amazon Fire.
A new chapter in the free CSI style hidden object series.
From Pretty Simple.
For the full series list, see details included below.
Criminal Case Season 4
Criminal Case Season 4: Mysteries of the Past.
From: Pretty Simple.
Genres: Detective, Crime-Solving, CSI, Mystery, Hidden Object, Puzzle.
Amazon Fire Release: February 2018.
Description: Go back to the 19th century. Solve a series of murders in this captivating hidden object adventure game. Investigate crime scenes for clues. Bring suspects in for questioning. And analyze evidence to catch the killers. Are you ready to prove your detective skills? [Source: Facebook]
Game Play and Features
Investigate crime scenes in a city from another era.
Examine clues and analyze samples to look for evidence.
Interrogate witnesses and suspects.
Bring the killer to justice.
Amazon Fire Tablet
You can get Criminal Case Seasons 1 to 4 on Amazon Fire Tablets. Check out Amazon's best-selling tablet which includes Alexa, 7″ Display, 8 GB, Black and special offers. For details visit:
Criminal Case Series – 5 Seasons
Grimsborough (Season 1 first released: 2012).
Pacific Bay (Season 2 first released: 2014).
World Edition/Save the World (Season 3 first released: 2015).
Mysteries of the Past (Season 4 first released: 2016).
The Conspiracy (Season 5 first released: 2018).
See also my latest Amazon Fire Games – News and Reviews.
More Detective Games for PC, Mac & iOS
* Nancy Drew Games List for PC and Mac.
* Agatha Christie Hidden Object Games List for PC.
* Art of Murder Game Series List from City Interactive.
* James Patterson's Women's Murder Club Games.
* PopCap's Mystery P.I. Games List.
* Strange Cases Game Series.
* Layton's Mystery Journey for iPad and iPhone.
See also my New Detective Games Reviews. For PC, Mac, iPad and iPhone.
Don't forget, you can Subscribe or Follow and get updates of my latest posts.