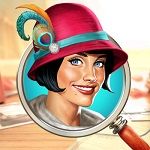 June's Journey, a new hidden object adventure game from wooga.
Available for free on tablet and mobile.
For Android, Amazon Fire, iPad and iPhone.
I've also included details of the latest app update.
Plus more games like June's Journey, included below.
New Free Hidden Object Game App
From: wooga.
Genres: Detective, Mystery, Hidden Object, Puzzle.
Released: October 2017.
June's Journey
Description: Find hidden clues and solve exciting puzzles across beautiful locations that draw you right into the heart of the mystery! Surprises at every turn, stunning hand drawn scenes, and a cast of glamorous characters await you in a globetrotting story game. From the heart of 1920s America to the perfect style of Paris and beyond, enjoy a story unlike anything you've seen before. With every new chapter, you'll sink into a world of thrilling mystery and exciting drama in a story to take you around the world.
Game Play and Features
The follow-up to the hit hidden object game, Pearl's Peril (see below for link).
Hidden object scenes, jigsaw puzzles and loads of exciting modes.
Join June, a brave adventurer in a mystery game you'll love.
See some of the most beautiful places in the world, all lovingly hand captured from the 1920s.
Just like your favourite TV series, look forward to a new mystery in each new chapter.
Lose yourself in the wild and wonderful characters of June's Journey, but watch your every step!
Opening with the mysterious disappearance of her sister, June must take her orphaned niece under her wing. Together, they get drawn into a mystery greater than anyone ever expected. Can you uncover the real secret behind June's Journey?
Latest Update
September 2019 Update: HAPPY ANNIVERSARY, JUNE! – Save the date: October 5th! Join us for June's Journey's 2nd anniversary celebrations! Beginning on September 25th, you are invited to a party at the new Golden Gazebo on Orchid Island. Inside you will find new daily challenges and rewards. Look for a special gift on October 5th! Join us on Facebook from September 26th for a surprise anniversary web series, 1 video a day!
Download for Free
From Amazon for: Fire Tablet (US) or Fire Tablet (UK).
More Games Like June's Journey
For more detective hidden object puzzle games like June's Journey. For Android, Fire, iOS and Facebook. You might like:
Pearl's Peril – Latest App Update.
Queen's Quest Games by Brave Giant and Artifex Mundi..
Haiku's Adventure Escape Games in Order.
Criminal Case Games for Facebook and Mobiles.
New York Mysteries Series from FiveBN.

You might also like Agatha Christie Hidden Object Games List for Computer.
Don't forget you can Subscribe or Follow to keep up to date with my latest posts.