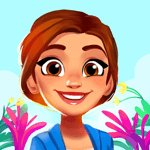 Delicious Bed & Breakfast a new Emily game release from GameHouse.
This latest chapter in the popular series combines match 3 and time management game play.
New on Google Play for Android. Already available on the Apple app store for iPad and iPhone.
For the full Delicious Emily games list in order, see my post included below.
New Delicious Emily Game App from GameHouse
From: Gamehouse, RealNetworks | Android release: January 2020 | Genres: Match 3, Adventure, Building, Time/Resource, Management, Farming, Tycoon, Strategy, Simulation.
Delicious Bed & Breakfast
Description: Fix up your very own Bed & Breakfast and become a five-star host! Always wanted to run your own B&B? Find out about all the fun while you fix up an old mansion and turn it into a Bed & Breakfast. The grand opening is nearing and there's still so much to do. Let alone decorating the home and garden! Together with Emily and the rest of the O'Malley family, you'll build, fix, farm… and have a lot of fun! Enjoy their heart-warming adventures in your story book. Restore and decorate to your taste and get ready to welcome guests from all over the world. Soon, they will check in to your Guestbook for a stay to remember. Show your guests around, harvest homegrown goods and cook up seasonal specials. Get your farming game on and reap the fun! [Source: Google Play]
Game Play and Features
A Delicious match 3 game, filled with homegrown goods and fine ingredients.
Crunchy power-ups to collect chestnuts, pick fruit, and harvest home-made honey.
Tasty boosters that weed out tricky blockers.
Gameplay that keeps you on the edge of your seat through hundreds of levels.
The fun combo of matching, decorating and farming.
The chance of a lifetime at building your very own Bed & Breakfast.
A peaceful mansion and piece of land to restore to its natural splendor.
Hundreds of decorative choices that make this place your own.
An upbeat journey full of lovely characters and memorable stories.
Fun match 3 puzzles and tasty fun guaranteed!
Free to play with the option to buy in-app purchases.
Play Delicious Bed & Breakfast
Available to play on Android (Google Play) and iPad/iPhone (Apple).
For more GameHouse Delicious Emily games, see my post: Emily's Delicious Games Series List. For all of the game titles in the series so far, listed in order. Available on PC, Mac and mobile.
More Top Time Management Games
For more time management game series lists for computer and mobile. You might like:
Roads of Rome Game Series for PC and Mac.
Adelantado Trilogy Series List.
12 Labours of Hercules Games.
Virtual Villagers Games from Last Day of Work.
Weather Lord Game Series List for PC and Mac.
Alicia Quatermain from Jet Dogs Studios.
See also my Best Time Management Games of 2019 for PC and Mac.
You might also like: Free Management Games Online no Download Required. And my latest New Time Management Games posts. For PC, Mac and phone. Including series lists, new releases and reviews.
Don't forget you can Subscribe or Follow to keep up to date with my latest posts.