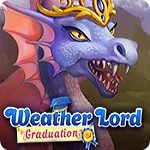 This Weather Lord game series list.
Includes all the time management games.
In this series, in order of release.
From Yustas Games.
And published by Alawar.
Available for PC and Mac download.
And for more management games like Weather Lord. Check out my list, included at the bottom of this post!
Weather Lord Game Series Order
From: Yustas Games Studios and Alawar Entertainment.
Genres: Building, Time Management Games, Strategy.
Including Collector's Editions (CE) – with extra game play and bonus content!
1. Weather Lord
PC release: 2012.
Description: A unique time management game that puts the forces of nature at your fingertips! Use sunlight, wind and rain to coax bumper crops out of fertile soil. And then turn your harvest into the products people want.
If you manage your resources well. Your solar power stations. And wind turbines will provide the energy your production facilities need. You'll also have to summon thunderclouds to remove boulders. Send rain to quench forest fires. And store up the resources your workers need to repair earthquake damage. If you stay ahead of the clock, the gold cup will be yours!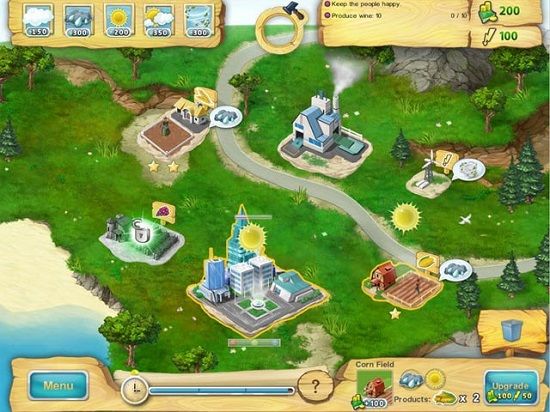 2. Weather Lord: Hidden Realm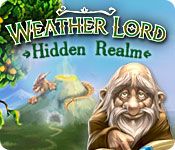 PC release: 2013.
Description: Command the powerful forces of nature to free an island of an evil scourge in Weather Lord: Hidden Realm!
As you make your way across a once lost land, you'll restore its villages, free its people and battle ogres, golems and Yeti scum. With the elements in your hands, a sword at your side and a little magic in your pocket, no one will be able to stop you on your march to victory…
3. Weather Lord: In Pursuit of the Shaman
PC release: 2014.
Description: An earthquake has devastated a once peaceful land and shattered the lives of its natives! The country is now teeming with unpleasant creatures, and an evil shaman is making a bid for absolute power… Unleash the awesome power of nature as you lead a band of brave warriors across a ruined landscape to defeat the evil shaman!
Help the natives by gathering resources and repairing their villages. Complete quests using sunlight, rain, wind, and thunder to replenish crops. Eliminate the enemies and remove obstacles that stand in your way.
4. Weather Lord: The Successor's Path
PC release: 2015.
Description: Rebuild a devastated land, save your people from peril and face off against an array of bizarre enemies in Weather Lord: The Successor's Path – a captivating time management epic!
Use rain to replenish crops, thunder to remove obstacles and wind to destroy ghastly creatures! Play clever, play quick and victory will be yours!
5. Weather Lord: Following the Princess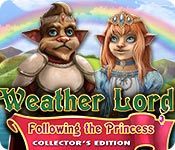 PC release: 2015.
Mac Appstore release: May 2016.
Description: An old nemesis returns but only as a forbearer of something even more malevolent in the epic Weather Lord: Following the Princess!
The power to command powerful weather systems are still yours as you set off on a journey to rescue a princess from captivity, rebuild a ravaged land, and stop a relentless force from destroying the magical Kingdom of Lorraine!
6. Weather Lord: Legendary Hero!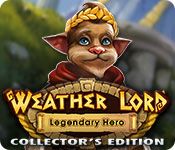 PC release: 2016.
Mac Appstore release: November 2016.
Description: Everything seemed to be going well for Weather Lord and his wife, Olivia. They left their homeland to enjoy a vacation, but when they arrived, their island destination was in ruins!
Without warning, Olivia got sucked through a portal and the gateway closed, spiriting her away to an unknown land!
But our hero will always find a way to make things right. Now you must call upon the gods of Olympus to help you rescue your beloved, before all hope is lost!
7. Weather Lord: Royal Holidays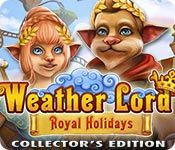 PC release: 2016.
Description: Control the sun, the rain, the wind and more as you travel across your kingdom helping people in need and restoring daylight.
Then take on the role of the demon, who wants to bring on eternal night.
With its humor-filled storylines, vibrant and charming visuals, and easy-to-learn gameplay, Weather Lord: Royal Holidays Collector's Edition is the perfect "staycation"!
8. Weather Lord: Graduation
PC release: 2017.
Description: The legacy of the Weather Lord continues as King Victor and Queen Victoria prepare to pass the royal torch to their daughter, Jenny.
But before Jenny can rule, she must learn the ropes!
That day comes when pirates steal the Great Dragon's golden egg. Help Jenny and her mentor save the day before the beast unleashes the full fury of her wrath!
This game is one of my Best Time Management Games of 2017 for PC and Mac!
More Top Management Games Series
For more games like Weather Lord. Available on computer and mobile. You might like:
Incredible Dracula Series List.
Roads of Rome Game Series.
Adelantado Trilogy Series List.
Monument Builders Series List.
See also my New Time Management Games posts. For PC, Mac, Android, Fire, iPad and iPhone. Including series lists, new releases and reviews.
Don't forget you can Subscribe or Follow and get updates of my latest posts.