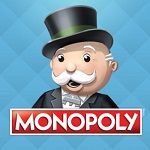 New on the Apple appstore for mobile, classic MONOPOLY by Marmalade Game Studio.
Bringing the classic board game to life. With a beautiful animated 3D city!
Designed for an effortless, family-friendly interactive mobile experience.
Play classic MONOPOLY against the computer, friends, family or with other people online!
For more digital versions of classic Hasbro games for iOS, Switch, PC and Mac, see my list of posts below.
Classic MONOPOLY for iOS
From: Marmalade Game Studio | Released: Dec 3, 2019 | Genres: Classic, 3D, Board, Strategy, Tycoon, Multiplayer, Family.
Description: Buy, sell and scheme your way to riches in MONOPOLY, the popular Hasbro board game and a timeless family classic enjoyed by over a billion people worldwide. The board game you know and love is available on mobile and tablets! [Source: iTunes]
Game Play
Are you ready to bankrupt your opponents in a game of MONOPOLY? Make your way around the board and BUY properties, COLLECT rent and BUILD hotels to become a landlord tycoon, just like the original Hasbro family board game.
Features
Original board game. Play the Hasbro classic solo or with family and friends.
No pay-to-win, no ad pop-ups.
Play with the most common house rules.
Quick Mode: Finish the board game faster than ever.
Player modes: Play against computer opponents in single-player mode. Offline/local multiplayer – play together and pass the phone between turns. Or play online MONOPOLY multi-player game with people all over the world. Create a private multiplayer game with your friends and family.
Local Edition boards with familiar places!
In-app purchases include season pass, themes and additional board variations.
Play Hasbros MONOPOLY on Mobile
Available from Apple for iPad and iPhone.
More Hasbro Board Games by Marmalade Game Studio
Cluedo for Nintendo Switch and iOS.
THE GAME OF LIFE Vacations Multiplayer Game App.
Classic Battleship for Nintendo Switch and iOS.
THE GAME OF LIFE: 2016 Edition Multiplayer for iOS.
Board Games for Computer
For Hasbro board games for PC and Mac, to play against the computer or online multiplayer. You might also like:
Risk Board Game for Mac and PC.
Classic Scrabble for PC and Mac.
Classic Monopoly for Mac and PC.
Best Scrabble Games for PC and Mobile.
See also my latest Board Games series lists, new releases and reviews.
Don't forget you can Subscribe or Follow to keep up to date with my latest posts.