New out this week, THE GAME OF LIFE Vacations.
From Marmalade Game Studio.
A spin-off mobile game app of the family favorite Hasbro board game.
Now out for iPad and iPhone from the Apple App Store. And coming soon to the Play Store for Android devices too.
With this Game of Life game you can play in a number of game modes. Including offline and online multi-player!
For more Hasbro games for mobile, computer and console. See my list of posts below, including Cluedo for Switch, also by Marmalade!
New Hasbro Game for iOS
From: Marmalade Game Studio | Genres/Game Modes: Classic, Board, Strategy, Kid-Friendly, Family, Local/Offline, Online, Multiplayer, Against AI Opponents | Apple App Store release: July 2019.
THE GAME OF LIFE Vacations
Description: Pack your bags and whisk away your family and friends on a magical adventure in THE GAME OF LIFE Vacations! Get ready to explore the first digital-only spin-off of the beloved Hasbro board game, completely ad-free for safe and family-friendly board game fun!
Game Play and Features
Explore the fiery lava streams and exotic beaches of Volcano Island. Build sand sculptures, go scuba diving, and compete with your family and friends. But be careful, avoid setbacks on your dream vacation.
Fill your scrapbook with unique souvenirs and stunning photos, the more memories you collect, the better your chances are of scoring big and winning vacation glory. Explore different routes on the island to complete your collection!
Pick your own unique peg and choose between the adventurous backpacker, the surfer family, the travelling sisters, and many more! Once you're ready to roll, select your ride and dash around the island in a scooter, sports car, motorcycle or bus.
More exotic destinations are coming soon!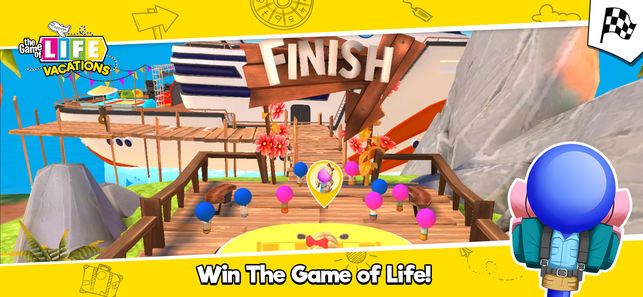 Play Game of Life Online/Offline Multi-Player
You can play this new Game of Life app in a number of ways:
Offline Multiplayer: Vacation with your friends and family in pass and play, no WIFI needed! Perfect for those long journeys.
Offline Single Player: Travel solo in single player mode.
Private Online Multi-player: Invite your family and friends to play online in a safe private game.
Online Multiplayer: Challenge up to 4 random players online.
More Board Games for Computer, Mobile and Switch
You might also like: Clue / Cluedo for Switch from Marmalade.
And also Hasbros Game of Life and More Board Games for PC and Mac Download.
For more classic board games adapted to be played on the go! Check out my previous blog posts:
Ticket to Ride Board Game App for iOS.
7 Wonders Card Game for iPad.
Maquis World War II Board Game App for iOS.
Mysterium: A Psychic Clue Game.
Risk, Trivial Pursuit and Jeopardy Game Downloads for Switch.
Hasbros 3D MONOPOLY for Nintendo Switch.
Jackbox Party Packs – Family Games for Apple/Fire TV and Switch.
Monopoly Here and Now Game for iOS, PC and Mac.
And also checkout my latest Board Game News and Reviews posts.
Don't forget you can Subscribe or Follow to keep up to date with my latest posts.