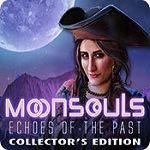 Review of Moonsouls 1: Echoes of the Past.
From Mad Head Games.
The first in a new sci-fi mystery adventure series.
Available for PC and Mac with free demo.
For more HOPA games from Mad Head, see my list of posts included below.
New Sci-Fi HO Adventure Game
Title: Moonsouls: Echoes of the Past.
From: Mad Head Games.
Genres: Mystery, Hidden Object, Puzzle Games.
Collector's Edition release: March 2018. This includes bonus content, more game play and extra features.
Moonsouls 1: Echoes of the Past
Plot: You and your nephew Isaac are excited to bring your wares to the Victory Day Festival. But your plans are interrupted when a strange vessel falls from the sky! When Isaac becomes trapped inside, it's up to you to free him! This won't be an easy task, as an otherworldly foe has more destructive plans in mind. Can you use new technologies and abilities to save Isaac and the world in time?
Collector's Edition – Bonus Game Play and Features
Stop a deadly virus in the bonus game!
Find many collectibles and morphing items.
Enjoy stunning music, movies, and wallpapers.
Play effortlessly using the Strategy Guide!
Review
Moonsouls: Echoes of the Past begins its story in medieval times. Where you and your nephew are travelling to a festival to sell your wares. However, this quickly turns into a sci-fi adventure! When you're confronted with alien technology, as a spaceship crash lands ahead of you.
This is the first installment in a new series by Mad Head. The twists and turns of the plot – going from medieval to space stations on the moon – may seem a little far-fetched, even for a sci-fi fantasy. However if you're willing to go with it, then you'll find this adventure game has lots to enjoy. From the varied and creative game play. Including plenty of interesting puzzles and mini games – which make good use of the themes of the story. And layered interactive hidden object scenes. To the creative use of a translator device, which is imaginatively incorporated into the game play. The music, visuals and voice-overs also work well to create an immersive atmospheric adventure.
Overall, this is a fun, but not too challenging game. Though some may find the storyline a little too far-fetched to get on board with! If so, check out another sci-fi HOPA by Mad Head, Beyond 1: Light Advent, which I feel has a better, more cohesive storyline and challenging game play.
More from Mad Head Games
For more mystery adventure games by Mad Head Games. For computer and mobile. You might also like:
Nevertales Series List.
Rite of Passage Hidden Object Series.
Maze Game Series List.
See also my latest Mystery Adventure Games. News and reviews for computer and mobile.
Don't forget, you can Subscribe or Follow and get updates of my latest posts.