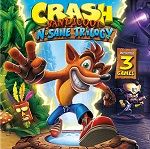 The hugely popular Crash Bandicoot NSane Trilogy.
With its remastered and updated versions.
Of all 3 of the games in the quirky bandicoot series!
Created exclusively for Play Station 4.
Now also out on Nintendo Switch, Xbox One and PC download.
Crash Bandicoot NSane Trilogy
Developer: Vicarious Visions.
Publisher: Activision.
Genres: Platform, Adventure, Action, Strategy, Funny!
PS4 release: November 2017.
Nintendo Switch, Xbox One and PC release date: 10 July 2018. Available on Amazon UK and US.
Description: Your favorite marsupial, Crash Bandicoot, is back! He's enhanced, entranced & ready-to-dance with the N. Sane Trilogy game collection. Now you can experience Crash Bandicoot like never before in Fur-K. Spin, jump, wump and repeat as you take on the epic challenges and adventures through the three games that started it all, Crash Bandicoot, Crash Bandicoot 2: Cortex Strikes Back and Crash Bandicoot: Warped. Relive all your favorite Crash moments in their fully remastered HD graphical glory and get ready to put some UMPH in your WUMP! [Source: Amazon]
Game Play and Features
3 Full Games, 100+ Levels & 2 Playable Characters.
Experience N. Tense Platforming, Epic Challenges & Adventures.
Stunning New Animations & Graphics.
All 3 original games fully remastered. Crash Bandicoot, Crash Bandicoot 2: Cortex Strikes Back, and Crash Bandicoot 3: Warped.
NEW! Play as Coco in ALL Three Games.
NEW! Time Trials in ALL Three Games.
NEW! Online Leaderboards.
Play Crash Bandicoot NSane Trilogy
Available for Nintendo Switch, Xbox One, PC download and PS4: US Amazon or UK Amazon.
More Platform Games for Nintendo Switch
For more platformers to play on Nintendo Switch from Amazon US/UK. Check out my other posts:
TowerFall – 2D Platformer for Switch.
The Swindle – Cyber Crime Platformer for Switch.
GRIS – Platform Game for Nintendo Switch.
Candle: The Power of the Flame for Switch and PS4.
Bomb Chicken by Nitrome for Switch.
Yoku's Island Express for PS4, Switch, Xbox.
Human Fall Flat for Nintendo Switch, PC, Mac.
CTR: Nitro-Fueled for Switch, PS4, Xbox One.
Donkey Kong Country: Tropical Freeze for Nintendo Switch.
Spyro Reignited Trilogy Switch Release Date.
And also my latest Nintendo Switch Games news, reviews and series lists.
For more details about the Switch console, check out my Nintendo Switch on Amazon Review.
Don't forget you can Subscribe or Follow to keep up to date with my latest posts.