Review of Vacation Adventures Park Ranger 7. From Casual Arts.
My top pick of the new hidden object games of 2018, so far!
Available for PC and Mac download with free demo.
This is a hidden object game with no story or adventure element. Just hidden object game play, interspersed with mini puzzle games.
For the full series list so far, and for more games like Park Ranger. See my posts included below.
Vacation Adventures: Park Ranger 7
From: Casual Arts.
Genres: Hidden Object, Puzzle Games.
Released: March 2018.
Description: Spend a sensational summer helping rangers run the stunning Pinecreek Hills National Park. This adventure is packed full of great HOGS and puzzles. It's charity week in the park and it's time to organise events on beautiful lakes, rivers and trails. Visit the colonial village and the breathtaking tree house lodge. Camp beside Golden Bayou, explore atmospheric waterfalls, enchanted caves and other gorgeous outdoor locations.
Game Play and Features
Gorgeous depictions of the great outdoors.
Unique fully illustrated wildlife notebook.
Interactive map for scene replays and rewards.
Earn souvenirs and awards along the way.
2 game modes: Casual and Challenge modes.
Play as one of two characters.
20 achievements.
Wildlife images to collect throughout.
Hints and megahints.
Relaxing soundtrack.
How to Play the Park Ranger Games
As with the other games in the Vacation Adventures series. Park Ranger 7 focusses on hidden object games interspersed with mini games and puzzles. And as such has no story or adventure elements.
Hidden Object Games
There are 3 parts to the hidden object games. Find all of the items in the list. Including items in red – which mean they are hidden behind or in other items, so some interaction is required to seek them out. You've also to find random items that need to be put in the recycling bin – these are not specified so you'll need to be on the lookout for trash! And finally collect the wildlife silhouettes shown in the left-hand corner of the scene.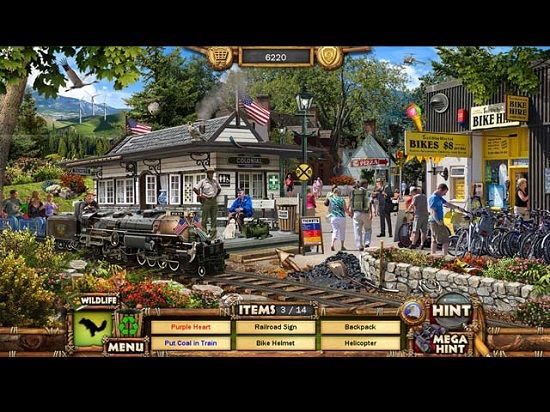 Earn a big bonus of coins by being eagle-eyed and finding all the list items without using the hint button. And the more trash items and wildlife silhouettes you find the better the star rating you'll get, as well as more bonus coins.
Other features of this game include a megahint, which will show all the available items in a scene.
You can also Replay each hidden object game to achieve a better star rating.
Mini Games
After each hidden item game, you get a mini game. These games range from spot the difference, word search or find matching pairs. To jigsaw puzzles and rotating tiles to make a complete picture. You can Skip these games, if you wish – once the skip button has charged up.
Use the coins you've earned to buy items from the shop. And fill up your souvenir cabinet.
Review
As with all of the games in the Vacation Adventures series, Park Ranger 7 involves straight-forward hidden object scenes and mini games, no filler! And along with the relaxing soundtrack and beautifully depicted scenes. This is a top HO game.
There's plenty to do within each HO game. And well-hidden enough to challenge your seek-and-find skills. Without the need or distraction of an adventure story!
For the full series so far, see my post: Vacation Adventures Game Series List.
Vacation Adventures: Park Ranger 7 is the top pick in my 10 Best PC and Mac BigFish Games 2018 (Part 1)!
More Just Hidden Object Games – No Story!
For more games like Vacation Adventures Park Ranger series. Where there's either just a little or no story element, mainly just hidden object game play. You might also like:
Big City Adventure Series by Jolly Bear.
Clutter Games from Puzzles By Joe.
Mortimer Beckett Games from Paprikari.
Samantha Swift Games from MumboJumbo.
PopCap's Mystery P.I. Games List.
See also my latest Hidden Object Games News. Including series lists, new releases and reviews.
Don't forget, you can Subscribe or Follow and get updates of my latest posts.