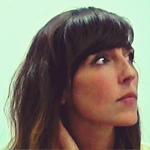 Her Story by Sam Barlow, creator of Silent Hill Shattered Memories.
Released on iTunes a year ago.
Has just out been released on Google Play for Android. Update: now also available on Amazon Fire.
This is a unique, realistic police investigation game.
Where you'll need to piece together full motion video clips. To unravel the truth behind Her Story!
Top New Detective Game App for Android
From: Sam Barlow.
iOS release: June 2015.
Android release: June 2016.
Genres: Detective, Story-Driven, FMV, Interactive.
PEGI rating: 16+.
Current US iTunes rating: 4.0 out of 5 from 302 player reviews.
Her Story
Description: Unlike anything you've played before, Her Story is an involving and moving experience. One that asks you to listen.
Her Story – Game Play
In 1994, a British woman was interviewed about her missing husband.
You are now tasked with solving this unsolved case. Using just your detective skills and an old computer with a corrupted database.
And because the database has been damaged, you'll need to sift through hundreds of video clips. To reassemble the interviews back to their original versions.
Explore the database with the right search terms. And watch the relevant clips to piece together her story.
Use the clues you have uncovered so far. To work out the best searches, to help you uncover more revealing clips.
Her Story – Review
Her Story is an immersive police investigation game. With it's use of video interview clips to tell the narrative. You get a more realistic crime-solving feel than the usual detective games.
And as there is minimal guidance or hints given. You'll need to use your own initiative to do the right searches. To uncover more useful clips in the database. This makes this game more interactive and challenging.
Her Story's unique game play gives a more real-world and interesting experience, that crime-solving fans will enjoy.
Play Her Story
Available on Amazon for: Fire Tablet (US) or Fire Tablet (UK).
Update 2019: Telling Lies – Investigation Game also by Sam Barlow.
More Atmospheric and Interactive Detective Games
For more top RPG, atmospheric and interactive detective games to play on PC, Mac, PS4, Xbox One, Switch, Android, iOS and Fire. You might like:
L. A. Noire Dark Detective RPG. Available on PC, PS4, Xbox One and Switch.
Fahrenheit: Indigo Prophecy Game. For Amazon Fire, iPad, iPhone, PC and Mac download.
Broken Sword Series: 5 The Serpent's Curse on Switch.
This Is the Police Games for PS4, Xbox One and Switch.
Tormentum – A Dark Mystery Adventure Game. For Amazon Fire, iOS, Android, PC and Mac download.
Kathy Rain, Point-and-Click Adventure Game for iOS.
The ABC Murders Game by Microids – Review. For Mac, PC, Mobile, Xbox One and PS4.
Sherlock Holmes 12: The Devil's Daughter – Review. For PC, PlayStation 4 and Xbox One.
Sherlock Holmes Games Series, Listed in Order. On PC, Mac, Nintendo DS/Wii, PS3, PS4, Xbox 360/One.
A Study in Steampunk: Choice by Gaslight. On Amazon Fire, iOS and Android.
Syberia Game Series on Amazon US/UK. For PC, Mac, PS4, Xbox One and Switch.
The Sinking City by Frogwares Dark Open World Investigation Game. For PS4, Xbox One and Switch.
See also my latest Detective Games news and reviews.
Don't forget you can Subscribe or Follow to keep up to date with my latest posts.