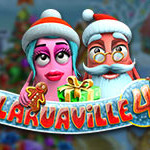 This post includes all the games in the Laruaville games series.
Match 3 adventure games from FRH Games.
With its unique combo of match 3, hidden object, Mahjong and more!
Available online with free demos for PC. Some chapters as also on Mac.
August 2020 Update: Laruaville 10 new out for PC and Mac. See below for details.
Laruaville Games
The Laruaville games are a unique mix of match 3, puzzle, hidden object and Mahjong. And also include elements of city-building and time management game play!
From: FRH Games.
Genres: Match 3, Hidden Object, Puzzle Games, Mahjong.
Laruaville 1
PC release date: December 2013.
Plot: What do you know about ghosts? Are they scary? Do they prefer living in ruins or cemeteries? Of course not! Actually, ghosts are friendly and cheerful, and – yes, they need a place to live. But they can't build the town by themselves! That's why they need your help in this new, breathtaking match 3 game with HOGs and puzzles.
Laruaville 2
PC release date: March 2015.
Plot: Who said that ghost are fearful and gloomy? That's wrong! Ghosts are cute and friendly! Their world was beautiful and trouble free, until the day the Moon vanished from the sky. Now, the night itself seems to have vanished. What's happened? Help the ghosts return the moon in this match-3 adventure, but beware, their world holds many mysteries.
Laruaville 3
PC release date: August 2015.
Plot: Friendly ghosts are looking for new places to settle. They've found a beautiful valley by the sea, but seasons don't change there. Seasons should be recreated! A whole town is to be built for that purpose. Spring, Summer, Autumn and the Winter along with all of the weather effects for each season such as wind, rain, snow have to be recreated manually in Laruaville 3!
Update Dec' 2015: This game is my Best Big Fish Kids Game of 2015 for PC!
Laruaville 4
PC release date: December 2015.
Plot: Help friendly ghosts celebrate Christmas! They don't know how to do it and have less than a month to get prepared! They need to find someone who will explain how to celebrate in this enchanting Match 3 game!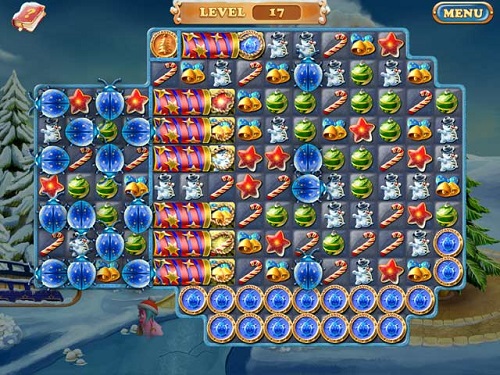 Laruaville 5
PC release: October 2015.
Plot: A couple of ghosts, feeling the call of the sea, decided to go on adventure. Unfortunately, a violent storm tore their ship apart and sunk it. Luckily, nobody got hurt, but they were cast ashore on an uninhabited island. The mainland is within visible distance, but how will they get back? Can they build a new ship? Building ships is not an easy task; it requires a lot of materials, knowledge and energy… Will you be able to help them out in such a hard task?
For more details, see my post: Laruaville 5 Review and Game Download.
Laruaville 6
PC release: June 2017.
Plot: There exists an island which rises from the depths of the ocean only once a year and only for a short time. Pirates have learned to hide their riches on the island for safe keeping, but the ghosts have found a way to unveil the treasures. Help them find it!
Laruaville 7
PC release: June 2018.
Plot: The Ghosts set out on a journey to unravel the mysteries of ancient Egypt. While on their expedition they accidentally awaken the ghost of a Pharaoh that has been asleep for the last 5000 years! Now they'll see what ancient Egypt really looked like first-hand.
Laruaville 8
PC release: February 2019.
Plot: Your favorite puzzle-solving ghosts are back! This time, they're learning about the ancient art of Alchemy! Nothing can be better than turning a huge pack of stones into a huge heap of gold! It's not as easy as you might think. Put your matching skills to the test and follow the ghosts on their latest adventure!
Laruaville 9
PC release: December 2019.
Plot: Your favorite ghosts are back with a challenging new set of puzzles! This time, the ghosts visit the ancient world where a mighty and warlike emperor, Spiritus I, awoke after a long sleep with a desire to conquer the world. After long negotiations, the ghosts have offered to build him a beautiful palace. It seems like Spiritus has agreed to put the world-conquering aside, but he wants to oversee the building of the palace himself…
Laruaville 10
PC release: August 2020.
Plot: The ghosts are back and this time they're going to have a run-in with a famous wizard! Merlin, the mightiest wizard of antiquity, has awoke and built himself a castle. Unfortunately, ancient castles were poorly designed with high humidity, dark corridors and drafty rooms! Merlin is smart however, and he has stolen the Sun and placed it in the castle for him to enjoy alone! But what about the rest of us? Maybe a friend from Merlin's past can convince him to return the Sun to its rightful place.
More Big Fish Match 3 Games
For more match 3 games from Big Fish. You might also like:
Free the Witch Review.
Sir Match-a-Lot Review.
4 Elements II Review.
See also my Top 10 Best Match 3 Games for Computer. For PC and Mac download.
And my latest Match 3 Games News & Reviews. For PC, Mac, Android, Amazon Fire, iPad and iPhone.
Don't forget you can Subscribe or Follow and get updates of my latest posts.