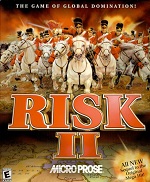 Game details and screenshots of the Risk II game.
Hasbro's sequel computer version of the classic board game, Risk.
This enhanced version is available for PC and Mac.
You can play this Risk version in a number of modes.
Including playing classic Risk online against computer. In single-player mode.
Or play against others in online multi-player mode. And much more!
For more digital versions of Hasbro board games for PC, Mac, PS4, Xbox One and iOS. See my posts included below.
Hasbro's Sequel to the Classic Risk Game
Risk II Game for PC and Mac
By: Hasbro.
Genres: Classic Board, Strategy, Military, Online Multi-Player, Turn-Based, Single-Player.
Description: As Supreme Commander, you'll seize territories, crush your enemies, and betray your allies in a fast-paced, ruthless quest for world domination. Play the Classic Game under the familiar rules, trading cards for armies and rolling the dice to outdo your opponent. Play the Simultaneous-Turn option for a whole new Risk experience that includes I-COM communication and negotiation features, territory-depth enhancements, and territory bidding. [Source: Amazon]
Risk II for PC & Mac – Features
Classic or Advanced map options. Play on the traditional number of territories. Or a map with added territories and connections.
2 ways to play. Classic game or Simultaneous-Turn option. Now all players are involved at the same time.
Optional 3D world globe view.
Single or multiplayer capability over a LAN or the Internet.
Mission-based play option. Each player provided with pre-set objectives for an innovative take on the way RISK is played.
Use the chat and iconic Communication features for diplomacy.
Risk 2 is the ultimate form of this world-domination game. For all ages to enjoy.
Play Risk II on PC and Mac
You might also like: Play Hasbro Board Games on PS4 and Xbox One.
Hasbro Board Games for Tablets and Phones
For more Hasbro games to play on the go. You might also like:
* Hasbro's Monopoly – New on Nintendo Switch.
* THE GAME OF LIFE: 2016 Multiplayer Edition.
* Classic Risk Download for Android and iOS.
* Multiplayer Yahtzee App.
* Play Clue aka Cluedo on your iPad and iPhone.
* Monopoly Here and Now for iOS, PC and Mac.
Classic Hasbro Board Games for PC and Mac
For more Hasbro game bundles for computer. You might also like:
* Play Classic Scrabble against Computer on PC or Mac.
* Play Hasbro Monopoly against the Computer on Mac and PC.
* Risk II Game for PC and Mac – Review.
* More Classic Family Board Games to Play on PC and Mac.
See also my latest Board Games news and review posts.