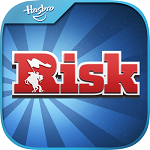 RISK Global Domination game app, now with full online multiplayer mode!
Play the classic war strategy board game on your Fire tablets.
With the latest adding loads more cool features to this digital adaptation.
Including multiple game play modes. From playing Risk against AI opponents. To playing with friends online.
As well as classic maps with a modern twist!
For more top Fire games to check out, see my list of posts below.
Classic Risk Game Download for Tablet
Title: RISK Global Domination.
From: Hasbro.
Genres: Board, War, Strategy, Multi-Player, Single-Player, Online/Offline Modes.
Amazon App Store Release: November 2018.
RISK Global Domination
Description: Everybody wants to rule the world! Now you can, with a new way to play the classic game of RISK. Take the battle online with Global Domination mode (must be aged over 13). Defend your territories, draft troops, and launch attacks for the ultimate conquest against friends, family, and foes. [Source: Amazon]
Game Play and Features
Multiple game modes available: Global Domination online, Zombie Apocalypse, Play Friends online, Single Player, and Pass & Play.
Up to 6 players/AIs can battle for world domination.
4 difficulty settings for rookies and veterans.
Authentic rules – it's the RISK you know and love.
Easily add friends and send challenges.
Guided tutorial mode and in-game help.
Critical game stats and achievements.
Multiple maps and beautiful graphics.
Fun animated avatars.
Send emojis to express your wrath or glee as you conquer your opponents.
Latest Update June 2019: New game mode – Capital RISK. Free Asia 1800s map. Improved AI.
Play RISK: Global Domination
Available from Amazon for: Fire Tablet (US) or Fire Tablet (UK).
New Fire 7 Tablet 2019
Amazon's all-new Fire 7 tablet, the latest upgrade of their best-selling tablet. Featuring 7″ display, 16/32 GB (twice the storage as the previous versions for the same price!), improved front camera (now 720p compared to the 480p camera of the 2017 model), faster quad-core processor and 3 new colors (Twilight Blue, Plum, Sage). Plus hands-free with Alexa and special offers.
For more details of the 2019 Fire 7 tablet, check out: US Amazon or UK Amazon.
Best New Fire Games
For my Amazon Fire top 10 games lists. You might like:
Best Hidden Object Games for Amazon Fire.
Top Free Role-Playing Games on Fire.
Top New Games for Amazon Fire 2018.
Best Kindle Fire Apps for Kids and Toddlers.
10 Best Games for Fire 2019 June Round-Up.
Roads of Rome Time Management Game Series.
Don't forget you can Subscribe or Follow to keep up to date with my latest posts.