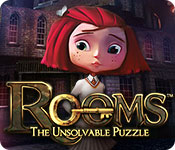 My top pick of Big Fish's new PC puzzle games.
Is the Rooms 2: The Unsolvable Puzzle sequel from HandMade Game.
With its unique combination of sliding puzzle. Escape-the-room game play!
I've included details of this new Big Fish puzzle game. As well as details of the popular previous game. For PC, Mac and Nintendo DS.

Rooms PC Puzzle Games by HandMade Game
Cool sliding puzzle platform games. Involving point-and-click, logic and strategy.
By: HandMade Game.
Genres: Adventure, Escape Game, Point & Click, Puzzle.
Rooms 2: The Unsolvable Puzzle
PC release: May 2015.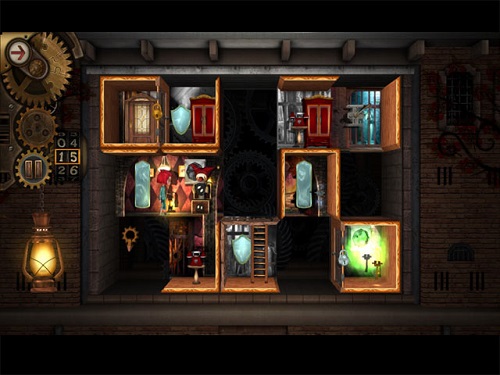 Plot: In this fairy-tale world full of magical objects and spooky stories, you take a role of an innocent little girl, Anne, who was accidentally trapped in the mansion. As the story unfolds, you'll be challenged to solve a series of diabolical puzzles while the dark legend of the twisted mansion is revealed.
Description: Rooms: The Unsolvable Puzzle is a unique puzzle game. Inspired by sliding puzzle and platformer games. In a twisted mansion made of rooms that slide like puzzle pieces, you must find a way to the escape by moving rooms and using items. As you explore the mansion, various gadgets make the puzzles more tricky and challenging.
Rooms: The Unsolvable Puzzle – Game Play
This begins as a seemingly simple puzzle game. With the protagonist Anne, finding herself trapped in a huge mansion. With a maze of rooms behind many doors to navigate through!
You are given a quick tutorial in the first few rooms. With the help of a friendly lantern, who pops up with tips and hints. Including showing you how to use objects like telephones as teleportation devices, that will come in handy escaping a room.
However, the game quickly moves up a notch getting more tricky! You soon have to think ahead before you slide the rooms up or down and left or right. To get Anne to the door to escape the room.
With strategic use of old-fashioned phones. And later, even more useful, mobile phones to teleport. You can move Anne to the right room. And get her to the door. Or if the door is padlocked, help her to get the key, to unlock the door and escape. Other useful items include ladders, so that you can navigate up and down.
There is also an overall challenge, which you solve by connecting each room correctly. As this will connect the pieces of a certain item. That will help you discover the underlying story of the mansion's owner, the Toy Maker.
Rooms 1 How to Play
To ensure each room is connected properly, therefore allowing Anne to escape the room. You have to check that each section is in colour. Rooms that not in the right place will appear in black and white.
You can only move a room when you are actually in it. Arrows will show you the options available to you to move. Point and click on the arrow to move the section Anne is in. And it will slide her to a new place.
Rooms: The Unsolvable Puzzle – Review
Tip: Think ahead, to make sure the sections are in the right place. Before you, for example use a phone to teleport. Then you'll have the right space free to move the next room to the right place!
If you get stuck you can click on the helpful lantern on the left hand side. And this will show you the shape of the solution to each properly connected room.
And if you get really stuck you can restart the room. To get it back to the starting point again.
There are loads of rooms to solve and escape from. Including the basement for more advanced puzzlers! And a trophy room for achievements earned.
This is a well-designed and fun puzzle game. With its nice clear graphics, simple idea and loads of rooms to explore and solve!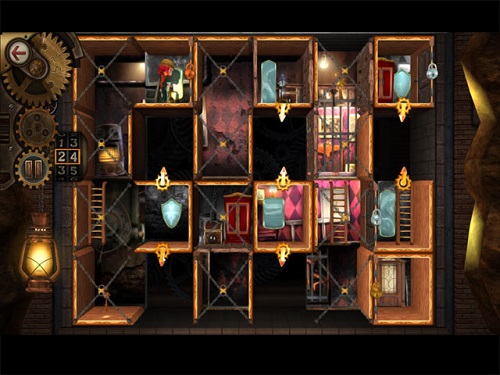 Rooms 1: The Main Building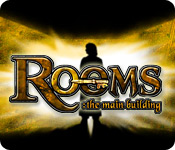 PC release: August 2008.
Description: Discover a 1930's throwback upon your arrival to Rooms, complete with city streets and a surreal Mansion. Bored with old puzzles, you're given a new type of sliding puzzle as a birthday gift. Your goal is to reach the exit before it closes on each level and retrieve the four puzzle pieces. Are you wise enough to use the right object at exactly the right time? Mr. Book is the Rooms steward and your personal guide to escape the maze in Rooms: The Main Building.
Available on Nintendo DS: Amazon US or Amazon UK.
More Escape Games for Computer and Mobile
For more escape the room games for PC, tablet and phone. You might like:
Rusty Lake Games in Play Order for iOS.
FireProof's The Room Series for Mobile.
Haiku's Adventure Escape Games List for Mobile.
Private Academy – Play Free Escape Game Online.
Facility 47 Adventure Escape Game for PC and Mobile.
See also my Top Puzzle-Solving Games. News and Reviews for PC, Mac, Android, Amazon Fire, iPad and iPhone.
Don't forget, you can Subscribe or Follow and get updates of my latest posts.