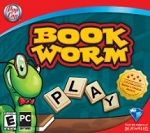 My favourite of the PopCap Bookworm game series is the Bookworm Deluxe game.
Purely for its simple and highly addicting word game play!
Though I also enjoy the Bookworm Adventures game too.
Below you'll find details of this fun word game.
Which is simple to play and great for adults and kids too.
As a quick but easy to play word game.
With cute graphics, sound effects and animated gameplay.

Bookworm Deluxe Full Version – Game Summary
Bookworm Deluxe is the updated version of Bookworm 1.
The aim of the game is to link as many letter tiles as possible. To spell out the best words for the most points. The cute bookworm sitting in the library (see picture) is Lex, and he's hungry. You have to feed him with the words you form. And the longer the better to fill his tummy!
As well as trying to earn big points. You'll need to keep an eye out for tiles that are alight. As left alone and these tiles will end up burning down the library. And then it's game over. This Bookworm game has turn-based play. And two game modes – untimed and timed.
This is a nice little word game. That is both challenging and fun. And good for kids and adults too!
Bookworm Deluxe on Amazon
Bookworm 1/Bookworm Deluxe for PC and Mac on:
See also my review of Highrise Heroes for a Bookworm Alternative for mobiles.
More Cool Games from PopCap and SpinTop!
* PopCap's Peggle Blast for Mobile.
* Plants vs Zombies Game Review.
* PopCap's Mystery P.I. Games List.
* Bookworm Games & Best Mobile Alternative.
* Amazing Adventures Games for PC, Mac and Nintendo DS.
See also my latest Hidden Object Games posts. For new series lists, news and reviews for computer and mobile.
Don't forget, you can Subscribe or Follow and get updates of my latest posts.