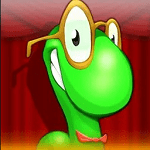 This post details how to play Bookworm 1 online free. The popular word game from PopCap is available as a free web browser game with no downloads required.
A very similar game can also be played on mobile today (called Bookworm Classic) and we'll talk about that as well.
Plus I also have a PopCap games list for you, with details of all the Bookworm games launched for various platforms.
And if you are looking for a good Bookworm alternative for mobile on Amazon Fire, iPad, iPhone, Android, see my post, included below for details.
PopCap's Bookworm Games
1. PopCap's Bookworm Deluxe (Original Bookworm Game)
By: PopCap Games | Release date: February 2003 | Genres: Word, Puzzle Games, Brain-Teaser.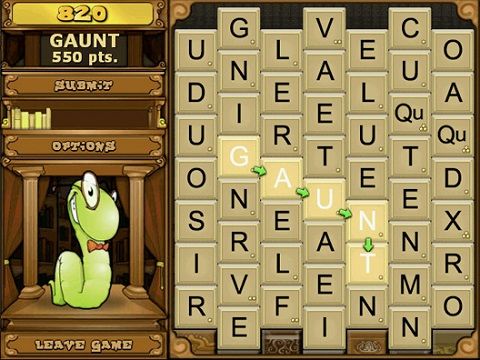 Description: Feed your appetite for words on PC! Link letter tiles left, right, up and down to build words and keep Lex sated and smiling.
The bigger the word, the better the bonus. Relax or tune up your brain in two modes, but watch out for burning letters… they could spell disaster! [Source: PopCap Games]
2. Play Free Bookworm Game PopCap Online for PC
At the time of first writing this post, the best place I'd found to play Bookworm online free was on PopCap's own website. However, since then they've been acquired by Electronic Arts Inc and their own website has gone.
But now, there are a few places where you can play the original Bookwork game for free, on your browser. One of them is KBH game.
Another way you can play Bookworm online now, with no download required is at pogo.com (owned by Electronic Arts). You will need to register – with your country, date of birth, email and password etc. Once you've registered, you can play Bookworm HD for FREE.
After your free week trial, you'll need to Join Club Pogo with a subscription fee to continue to play Bookworm online unlimited. The subscription works out at roughly 25 cents per day. With this membership, you'll also get access to other popular casual games ad-free.
3. Bookworm Full Version for PC on Amazon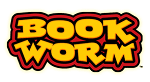 You can buy a Bookworm Adventures for PC on Amazon. (Affiliate link)
Conquer three storybooks and fight over 150 foes in Bookworm Adventures. Survive three all-new books with 10 chapters each in Bookworm Adventures.
And boost your word power with fantastic gems, potions and treasures! Unlock mini-games, a fast-paced Arena mode, and the trivia-packed Tome of Knowledge
4. Bookworm for Nintendo DS on Amazon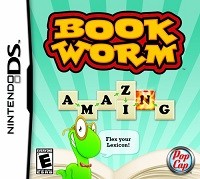 Description: Have an appetite for words? Then join Lex the Bookworm in the hit word puzzle game created by PopCap for your Nintendo DS!
Link letter tiles left, right, up and down to spell words and keep your bookworm smiling.
Spell words to fill your bookshelves, unlock 20 themed folios, and build out 18 unique library rooms.
Boost your score using Word of the Day then track your progress with the all-new Lex-Ray to see how big your Bookworm brain can be!
Work wordy wonders in three game modes: Start with Classic for the most popular Bookworm experience. When you're ready to test your skills, speed through the fast-paced Action mode.
And if you want to compete with friends, match wits in Multiplayer mode. No matter which mode you like best, you'll relax and tune up your brain every time you play!
Click here to check out the game on Amazon. (affiliate link)
5. Free Bookworm Classic for Android
By: Layton | Release date: March 2019 | Google Play Rating: 4.5/5.0 (4933).
This is a top free word game, available for Android phones and tablets from Google Play. Based on the brilliant game play of the Classic PopCap Bookworm game.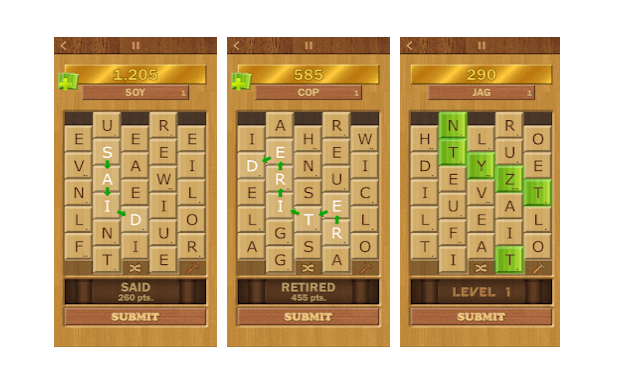 Description: Bookworm Classic (Expert) is a puzzle video game. Players can form a word by linking the letters. As words were formed and submitted, they are removed from the grid. Every word submitted will be replaced by new tiles.
The longer the words the higher the points. DOWNLOAD the latest 'Bookworm Classic (Expert)' game for FREE! [Source: Google Play]
6. More Top PopCap Games
A list of the most popular PopCap games, listed in order of release:
7. SpinTop Game Lists
For top games from PopCap and SpinTop:
8. More Games like Bookworm
For a mobile game like Bookworm, see my review of Highrise Heroes – Bookworm Alternative for iPad, iPhone, Android!
And if you love word games, see my post: Play Scrabble against Computer for PC or Mac.
If you have any comments, I'd love to hear from you – so don't hesitate to share your thoughts in the comments section below.