Play Bookworm 1 online free. The popular word game from PopCap. Available as a free demo web browser game. No download required!
I've also included a PopCap games list, with their most popular games. Including games from SpinTop.
And if you are looking for a good Bookworm alternative for iPad, iPhone, Android. See my post, included below for details.
PopCap's Original Bookworm Game
Title: Bookworm 1. (Also called Bookworm Deluxe).
By: PopCap Games.
Release date: February 2003.
Genres: Word, Puzzle, Brain-Teaser.
PopCap's Bookworm 1/Bookworm Deluxe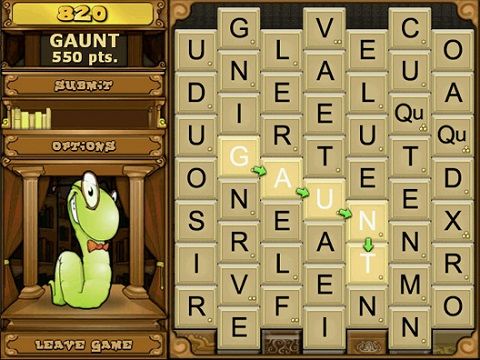 Description: Feed your appetite for words on PC! Link letter tiles left, right, up and down to build words and keep Lex sated and smiling. The bigger the word, the better the bonus. Relax or tune up your brain in two modes, but watch out for burning letters… they could spell disaster! [Source: PopCap Games]
Where to Play Bookworm Online Free no Download
The best place I've found to play Bookworm online. Is the free demo of this popular word game on PopCap's website.
PopCap Bookworm Bundle on Amazon
You can also get a Bookworm triple pack bundle for PC. This includes ALL of the 3 Bookworm games:
* Bookworm (Bookworm Deluxe).
* Adventures.
* Bookworm Adventures Volume 2.
Get Bookworm Bundle for PC on US Amazon.
PopCap Games List
A list of the most popular PopCap games, listed in order of release:
SpinTop Games List
For top games from PopCap and SpinTop:
Amazing Adventures.
Escape – The Emerald Star/Rosecliff Island/Whisper Valley.
Hidden Identity – Chicago Blackout.
Mystery P.I. See SpinTop and PopCap's Mystery P.I. Games List Order.
Vacation Quest.
See also my review of Highrise Heroes – the Perfect Bookworm Alternative for iPad, iPhone, Android!
See also my latest Word Games posts. For more news and reviews for PC, Mac, iPad and iPhone.
Don't forget, you can Subscribe or Follow and get updates of my latest posts.