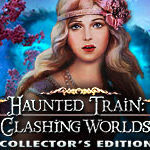 The complete Haunted Train game series list, in order of release.
With all the Collector's Editions (CE) in this hidden object series.
From developers Deep Shadows.
Available for computer on PC and Mac
And for iOS on iPad and iPhone.
Including this week's release of Haunted Train 3 for computer.
December 2016 Update: Haunted Train 2 new out for iPad.
Haunted Train Game Series List
From: Deep Shadows.
Publisher: Big Fish Games.
Genres: Detective, Mystery, Hidden Object, Puzzle.
1. Haunted Train: Spirits of Charon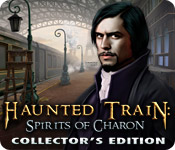 PC release: January 2014.
Plot: Charon's train has left the station, and you'll never believe who's on board…
You and your fiancée were supposed to be happy, but someone's destroyed your wedding day, and your lives together.
Now her ghost beckons to you from the train of death.
Can you put this vicious deed to rest – and help Charon bring justice to your love's tragic end?
2. Haunted Train: Frozen in Time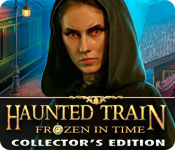 PC release: May 2015.
Plot: Olivia has been living happily with her husband Daniel aboard Charon's mythical train of souls as they fight the evil souls who threaten the world.
But it's been three days since Daniel went chasing after the thief who stole Charon's most powerful artifacts: the chronometers, watches that can stop time itself.
Armed with the last chronometer, now only Olivia stands against this thief's ultimate power.
Explore the small town of Farrington to find the thief and rescue Daniel.
Uncover the thief's plans and master time to save the people of Farrington, before it's too late!
3. Haunted Train: Clashing Worlds
PC release: October 2016.
Plot: A strange supernatural phenomenon has appeared suddenly in Amsterdam, claiming many victims. As you investigate, you begin to have strange visions of another dimension, where mysterious figures hint at a diabolical plan. Unless you stop it, the destruction will spread from city to city until the entire world is destroyed! Will you track down the source of the phenomenon and save the world? Or will your investigation be derailed by disaster?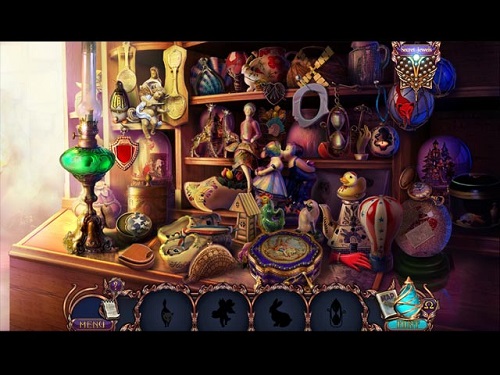 More HO Games Series
For more hidden object game series lists. For computer and mobile. See also:
Mystery Case Files Game Series.
Awakening Game Series List.
Drawn Series by Big Fish.
Shiver Games.
See also my New Detective Games Reviews. For PC, Mac, Android, PS4, Xbox One, Switch, iPad and iPhone.
And my Best Hidden Object Games of All Time! page. With my all-time top picks for computer and mobile!