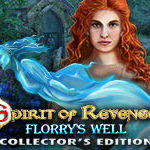 This Spirit of Revenge game series list.
Includes all of the game titles.
In Vendel Games' hidden object puzzle series, in order of release.
For PC, Mac, iPad and iPhone.
Including the latest release of Spirit of Revenge 4 for PC and Mac. I've also included a list of other popular HO game series below.
August 2017 Update: Spirit of Revenge 2 new out on iOS.
September 2017 Update: Spirit of Revenge 6 new out on PC and Mac. See below for details.
Spirit of Revenge Game Series List
From: Vendel Games.
Publisher: Big Fish Games.
Genres: Detective, Mystery, Hidden Object, Puzzle.
Collector's Editions (CE) include extra game play and bonus content.
1. Cursed Castle
PC release: August 2014.
Plot: Despite rumors that their Gothic castle is cursed, the Flatsburys returned to live there.
Now Lord Flatsbury and his son have vanished, and only little Jessie saw what happened.
Can you win the girl's trust and solve the mystery that spooked her into silence?
2. Elizabeth's Secret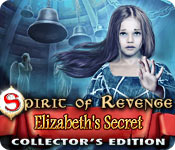 PC release: June 2015.
Plot: Follow a maze of palace intrigue to root out the truth.
Play as a maid of honor at Queen Elizabeth the First's court, with none other than the mischievous Francis Drake as your sidekick!
But this game's not just for history buffs.
Bring your sense of humor and quest for adventure on this fun trip into the Elizabethan past!
3. Gem Fury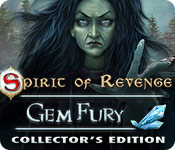 PC release: December 2015.
Plot: Someone's out for revenge, and she'll stop at nothing to get it.
Your sister needs your help finding her daughter Liza, who went away to summer camp and disappeared along with several other children.
As a parapsychologist and member of the police team, you're accustomed to criminal acts of the ghostly variety…
But are you ready for this spirit of revenge?
4. Florry's Well
PC release: June 2016.
Plot: An old friend recently purchased a haunted pub. What was once a friendly ghost has started attacking the pub's patrons! It's up to you to find out what's plaguing this restless spirit. Can you help your friend in time, or will you fall prey to this vengeful spirit?
5. A Test of Fire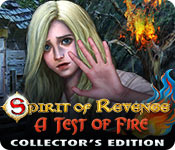 PC release: January 2017.
Plot: You've been called in to investigate a series of strange accidents at a school for girls.
What starts as a simple investigation quickly takes a deadly turn…
As you uncover dark secrets and a malevolent spirit haunting the students!
Can you save them in time, or will you become the spirit's next victim?
6. Unrecognized Master
PC release: September 2017.
Plot: This time, it's up to you to find out what's causing antiques in a local town to turn against their owners! You'll have to delve into history to stop this Spirit of Revenge. Do you have what it takes to save the town, or will you fall to the spirit's malevolent plans?
More from Vendel Games
For more top hidden object games for computer and mobile. See also:
Love Chronicles Series List.
Secrets of Great Queens Games.
Popular HO Series Lists
More hidden object puzzle game series. For computer and mobile:
Cadenza Hidden Object Game Series.
Fear for Sale Games List.
Hidden Expedition Games List.
Phantasmat Game Series Order.
See also 10 Top Free Full Version BigFish Games for PC. With free hidden object, time management and simulation games.
Don't forget you can Subscribe or Follow and get updates of my latest posts.