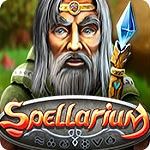 This post details the Spellarium games by FRH.
A match 3 puzzle series. Which combines match 3 puzzle game play.
With solitaire and hidden object games!
See my list of posts below for more top match 3 games lists and reviews. Including free full version match 3 games for PC.
November 2020 Update: Spellarium 6 now out.
Spellarium Games List
From: FRH Games.
Genres: Match 3, Puzzle, Solitaire.
Spellarium 1
Released: February 2017.
Plot: Fire, Air, Earth, Water, Light and Darkness – these are the six elements our universe relies on. A powerful artifact, the crystal called Spellarium, can transform the light of the sun into the magical energy that fills the world with life. Spellarium has gone missing and the world is slowly decaying now. Help Eric, the wizard sent by the gods, retrieve the artifact and return life to the world!
Game Play and Features: 100 levels with mini games. Restore a decaying town. Relaxed, Timed and Limited modes. A beautiful world to save!
For more details: Spellarium 1 from FRH Games – Review.
Spellarium 2
Released: November 2017.
Plot: The wizard Eric has been instructed by the Gods to create a 7th element and he'll need your help to do it. Fire, Air, Earth, Water, Light and Darkness are the six elements our universe relies on, but the Gods have asked for another. Complete a fun variety of puzzles as you follow Eric on his journey to create the 7th element.
Game Play and Features: 110 match-3 levels. A beautiful temple to build. Relaxed, timed and limited game modes. Beautiful artwork, colorful tiles and bonuses.
Spellarium 3
Released: August 2018.
Plot: This was a beautiful world before the Dark Spirits went out of control. The great war saw the Gods in direct conflict with the Dark Spirits, and thankfully, the Gods won. The world we once knew lies in ruin and the Gods need a Wizard to help raise a new world from the ashes. They've entrusted Eric with this task and have asked that he also build a great palace in honor of their glorious victory. Help Eric build his way to success!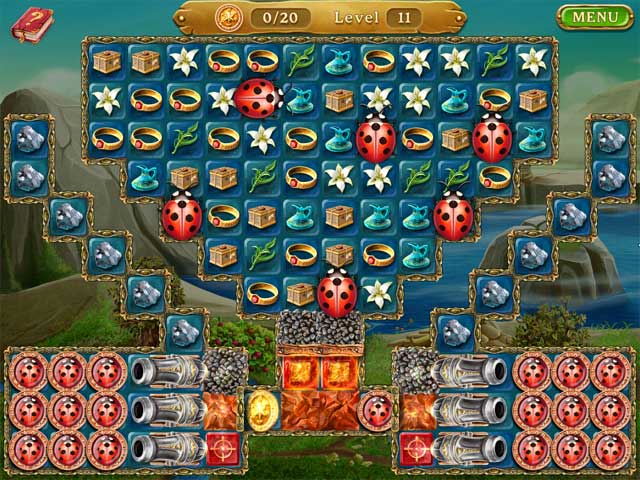 Game Play and Features: 110 match3 levels. New and challenging game mechanics. Relaxed, Timed and Limited Moves modes. Bright and beautiful artwork.
Spellarium 4
PC release: May 2019.
Plot: Your favorite wizard is back but this could be the final adventure. You see, Eric has spent the last 400 years in service to the Gods, but his time is running out and the Gods don't seem interested in prolonging his life! Join your favorite wizard on his quest to grow the Tree of Life and, with the right help, maybe he can find some magic to extend his years.
Spellarium 5
PC release: March 2020.
Plot: Eric has found a way to restore his youth, but he's lost the ability to control the Elements – throwing everything off balance. As a result, the Spellarium, the magic crystal which maintains order, has fallen to the bottom of a huge lake. The world is rapidly turning into a frozen wasteland and it seems nothing can melt the ice and lift the Crystal…
Spellarium 6
PC release: November 2020.
Plot: Spellarium is back with the next great puzzle adventure! This time, the Gods grow tired of their responsibilities and have chosen to delegate duties to Eric while they go on a much-deserved vacation! Join Eric and help him take on a monumental task while completing a resort for the Gods!
More Match 3 Game Series and Reviews
Sir Match-a-Lot Free Full Match 3 for PC – Review.
4 Elements II Match 3 by Playrix – Review.
Free the Witch Match 3 by Eipix – Review.
Laruaville Games List in Order by FRH.
Imperial Island Series, Match 3 Games for PC.
Big Fish's Gummy Drop for PC and mobile – Latest Updates.
See also my latest Match 3 Games news and reviews. For PC, Mac, Android and Amazon Fire.
And for more top match 3 games, check out my: 10 Best Match 3 Games for PC and Mac.
Don't forget you can Subscribe or Follow to keep up to date with my latest posts.